I had no plan to attend any race at this time of the year, but the fact that CCC-Liv and Marianne Vos were taking part in what seemed to be the hardest stage race of the year triggered my interest. Could I take a few days off in the next week? Yes. So … let's go! Being my first time at Tour Cycliste Féminin International de l´Ardèche, I had no expectations whatsoever, so I travelled to the start of stage 3 in Avignon with an open mind and a suitcase full of summer clothing.
It is never easy to summarise all the unseen things happening in a stage race, so I'll try to do my best by showing you some of my experiences (the ones that can be told) in the funniest race I've ever attended.
CHAPTER 1: TRAVELLING BACK IN TIME
The first feeling you get when you land on TCFIA is that you go back in time: a decade back, or 12 years back. To think that some of the best ranked riders/teams in the world are here, that these same riders ride Flanders, Worlds or Olympic Games … it takes some time to adjust to the Ardèche reality, and I guess it is so for everyone attending the race in whatever role.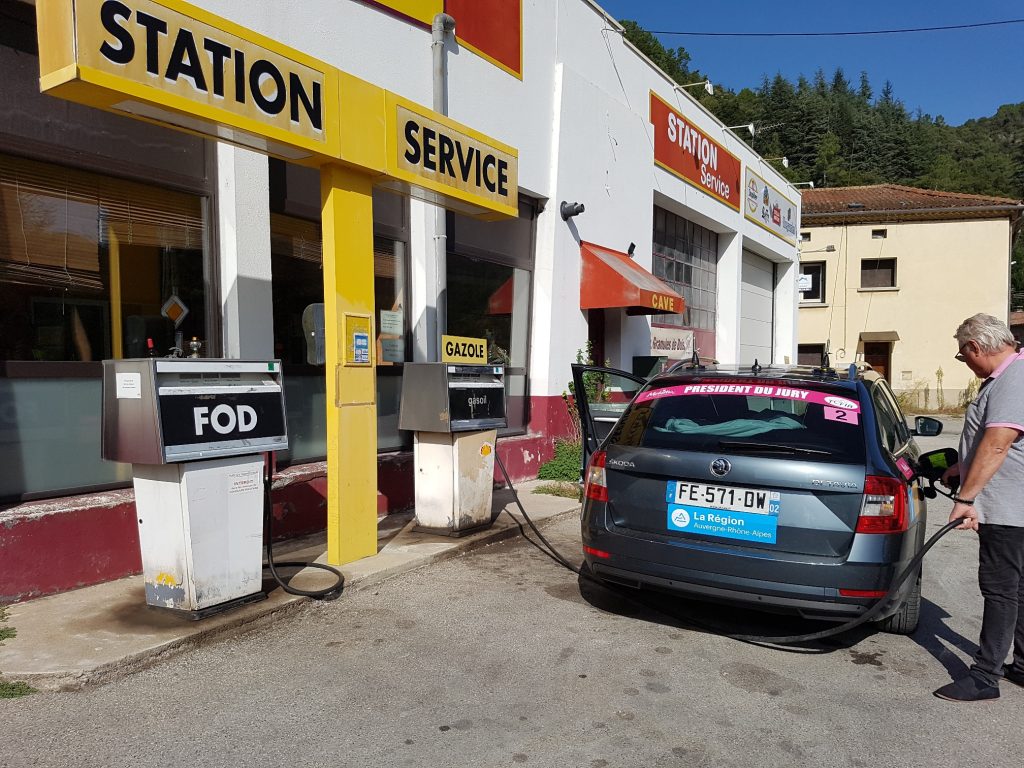 Everything is amateurish, little, familiar … and charming. Don't misunderstand me: I can be ironic about the naivity of TCFIA, but at the same time it has probably being the best race I ever attended. That simple. It has got the warmth and closeness characteristic to the sport, and that many times is lost in the big races.
Long live the TCFIAs of the calendar! (ehem, but some improvements would be more than welcome)
CHAPTER 2: A DREAM COME TRUE FOR SMALL TEAMS
To start with, I must make a very special mention to the smallest team taking part: Merquinia Colombia. I had the chance of sitting next to them at lunch time. The girls were having a blast, as it is their first experience in Europe. Some of them have been racing just for 1 year in Colombia, so their final results were much better than expected. They stayed silent eating the buffet provided by the organizers (the only teams who were eating like this, together with some riders from Crédit Mutuele). They looked exhausted but enjoying the whole experience to the maximum.
Of course their budget is so limited they cannot afford to have their own food/cook as most of the teams have. This is also women's cycling.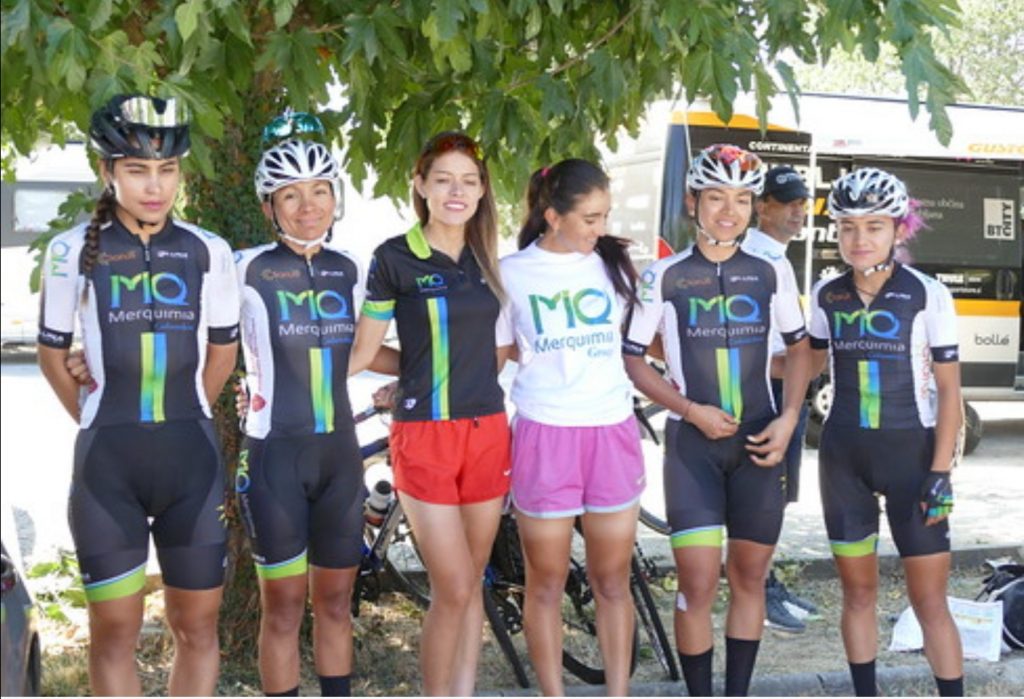 One issue connected to the presence of several very small teams is the time cuts provided by the organization. It is understandable nobody wants these teams to go home after the first stages, but it is difficult to understand -and, most importantly, it makes no favour to women's cycling – why time cuts are so ridiculous. You cannot take a race seriously with 50 to 70%! I was amazed to find out time cuts are provided solely by the race, and that there is no UCI rule regarding a maximum time cut. It should, particularly if you think this is a .1 event.
CHAPTER 3: THE GLAMOROUS CAMPING LIFE
Did you know that teams stay in a camping? Well, most of them, as the likes of Virtu or Canyon prefer not to and they rent a house which surely will provide better conditions. Marianne Vos said the 5-star rated camping is quite all right, which I do not doubt. Marianne, as many other riders, has seen much worse but let me express my disbelief regarding the comfort of resting in a 12.000 little city far away from the start and finish (some transfers took more than 2 hours, and to that you must add the winding, small roads leading to the destination).
Apparently, organization made good usage of the camping furniture as well, as riders were signing on a … camping table.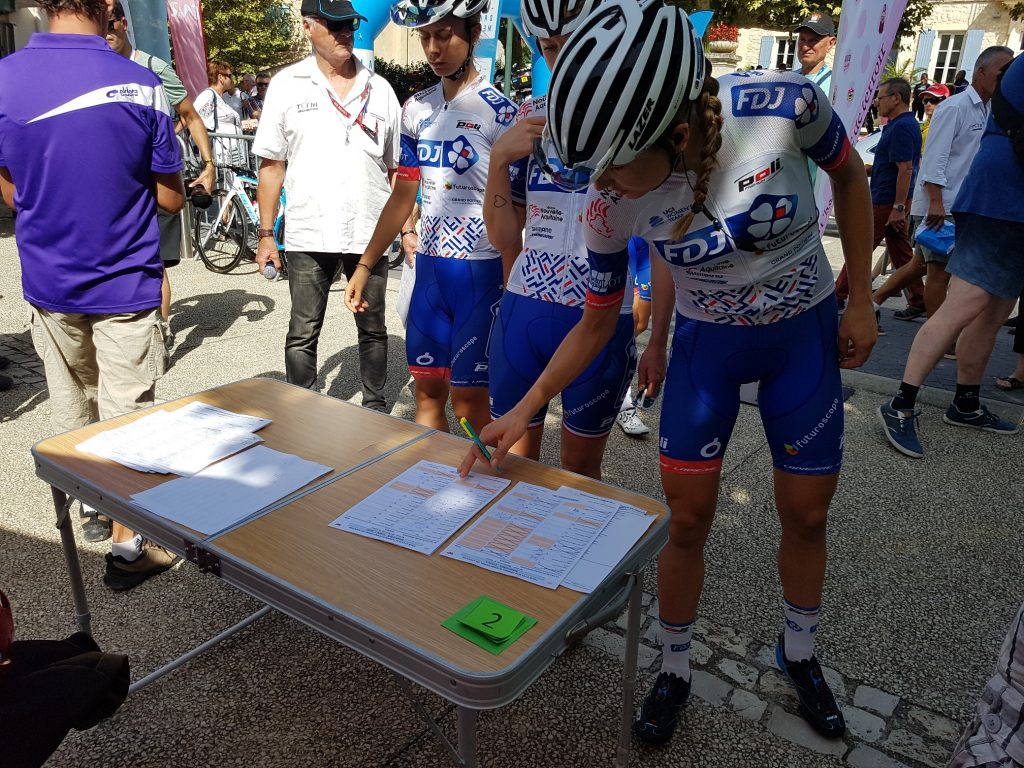 CHAPTER 4: SAFETY, THE REAL ISSUE
It is no piece of news parked cars are often an issue during races, but the quantity of dangerous situations coming from cars in every single stage was beyond my understanding. Cars, vans, even trucks parked in the middle of the road … and trust me these roads are narrow and twisty!
One of them caused an accident which could have been fatal.  It was Tibco's Emily Newsom who crashed against a car coming in the opposite direction. The impact was so brutal many riders were deeply concerned and wanted to know about her after the stage. The following day D.S. Rachel Heal informed us she had a broken collarbone and a concussion, but fortunately she was out of hospital.
It is hard to understand how a race with this security issues can get a 2.1 category, let alone getting the WWT status which they intend to apply for in the future.
Moreover, the convoy was taken in the wrong direction more than once, as we could follow the Strava/Veloviewer maps from the cars. Interesting that riders were riding even on more secondary roads! From my traveller perspective, no complaints: the landscapes were stunning from beginning to end. But shouldn't organization's number 1 priority be KNOWING the parcous? I think so.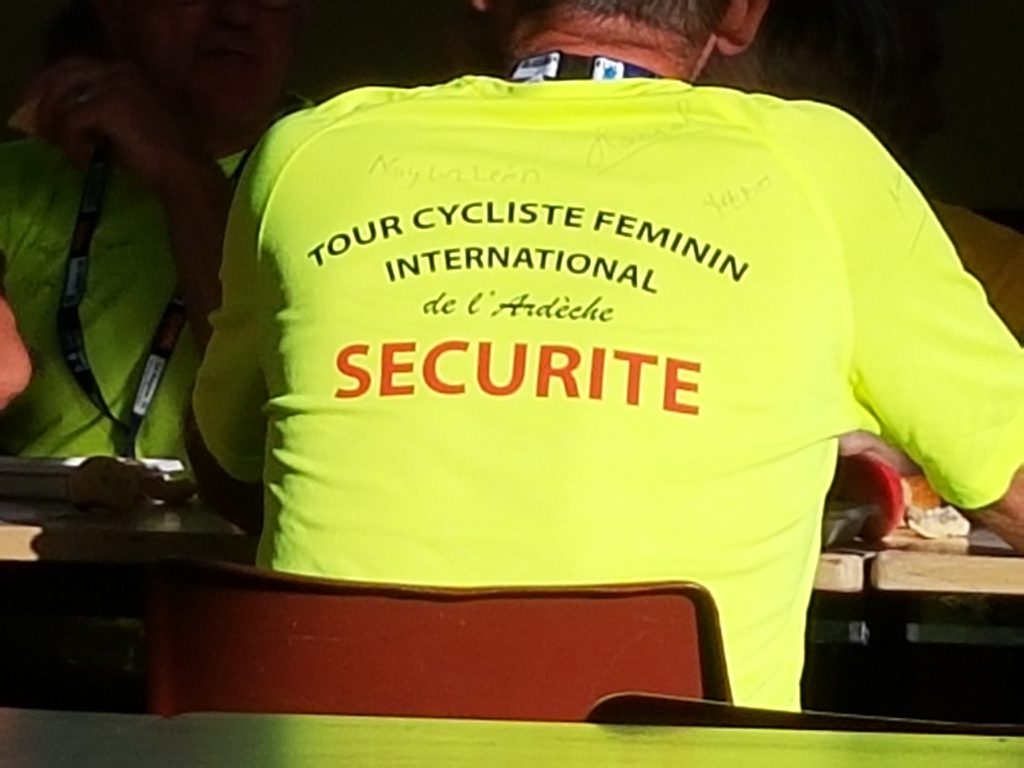 Another big issue were photographers & cameramen standing too close to the finish line and not respecting the security distance. Consequently, we saw several crashes amongst riders.
CHAPTER 5: THE STAGES ONE BY ONE
STAGE 3: AVIGNON-APT
I  arrived in Avignon on Saturday evening, having missed the first 2 days of racing but eager to make the most of the 5 stages to come. The first shock was the heat: it was 34 degrees, but I guess riders always prefer riding on these conditions. Avignon is a charming little city bathed by the Rhône, surrounded by a wall and with plenty of bikes around.
The coffee Conny Vos so gently offered me was so strong it could have waken me up from the dead, and it really helped me to cope with the heat and the terrain coming in an hour, constant ups and downs and the weird sensation of the 1st day in a team car: a mix of dizziness and unparalelled joy.
Catching up with Conny in particular, and knowing she gave up smoking and her health is back, was a joy. Well done! Next thing is taking up cycling, easy choice as she has a range of 20 bikes to choose from!
Another highlight of the day was meeting Walter from BePink and seeing Sigrid Corneo (funny that riders remembered me from Vuelta a Burgos). Also, catching up also with Shara Gillow. I take advantage to introduce myself to Nicolas Maire, FDJ´s DS, who gladly hosts me in his car to follow the stage. Off we go, stage 3 is underway.
The stage had a curious anecdote, one of those things you can only see when following the race in a team car: Nikola Nosková had to stop to take off the tape from her right foot, which took her quite a while (shoe-off, sock-off, tape-down, sock on, shoe-on … done!). Luckily, she was well accompanied by a team-mate who slowly took her to the bunch. It was a day of suffering for the former U-23 Euro Champ, who had been suffering from a stomach bug as well. Fortunately, she would end up the week in a much better physical condition.
After the 1st two stages won by Marianne Vos, it was a technical, downhill finish… guess the winner. It was a great view to have two Spaniards in the podium, and it sort of gave me goosebumps to see Ane Santesteban and Mavi García sharing podium with the greatest cyclist of all time. It was a truly emotional ceremony.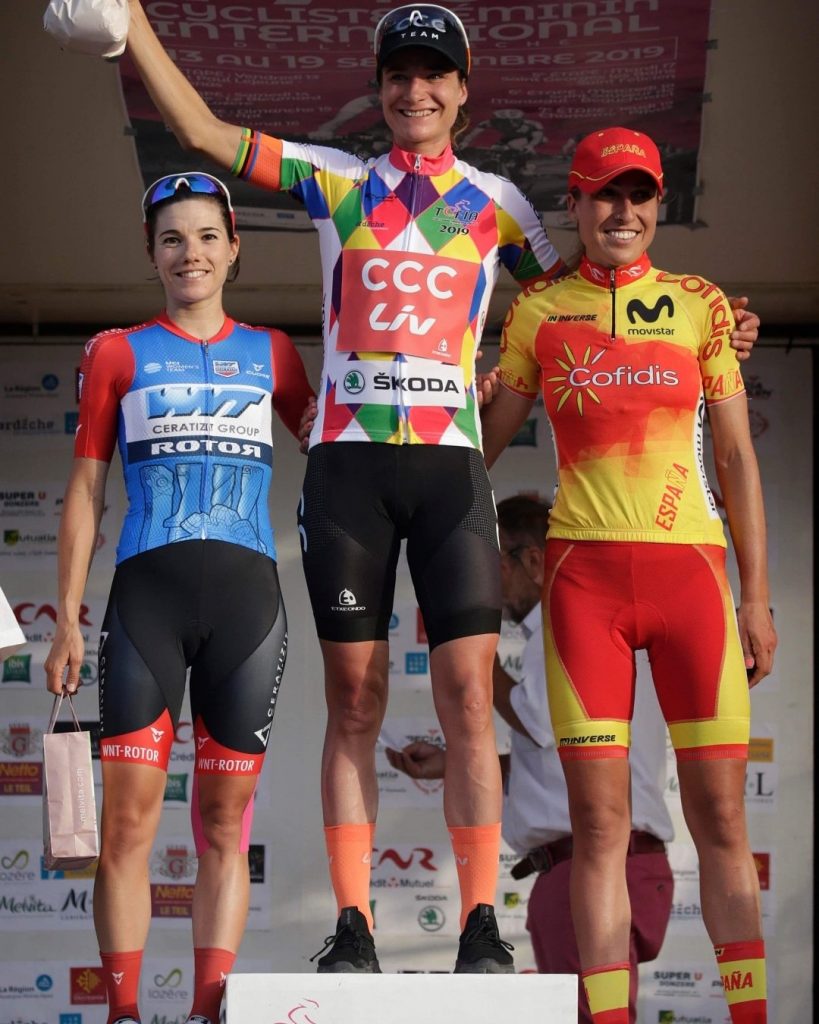 Once the race was over, I meet some of the organizers and I join them to eat and drink in some premises close to the finish line. As I find out later on, the racing finishes but then a party starts: organization (meaning volunteers) share a dinner and it is a great celebration of the day. Another day ticked at TCFIA.
Around 10 o´clock the party is over and I am taken to Avignon by one of the drivers of the race, which was quite a long way away. The drive, which took us more than 1 hour, was a very interesting chat with several volunteers and a French federation commisaire
STAGE 4: SAVASSE-MONTBOUCHER
"Don't you worry, I won't win all stages"
Words from Marianne the previous day at the finish in Apt. She kept her promise: it was a breakaway day and it was the 1st win of the year for Anouska Koster. Funny enough, at the start I had been talking to Anouska and telling her how impressed I had been of her come-back to the bunch the previous day, when she lost contact in some very steep gradients but then she fought back in-between cars and made it to the bunch. The other Dutchie in the breakaway, Jeanne Korevaar, was more than disappointed with her result, as she "messed up" her sprint.
To finish with the Dutchie-coloured day, my heartfelt admiration to Henk Vos, who gave the bouquet of podium flowers to Martine Gauthier after the podium ceremony. Martine is a French ex-pro who rode Trophee d'Or with Marianne, Marta Bastianelli, Kirstin Armstrong just to name a few, and who came on her bike a couple of days to see the race. Martine is a fabulous character, full of anecdotes and a big fan of Marianne. She came with some wine bottles for the Voses the following day, and she was glowing with emotions when the organizers proposed her to go up on stage the following day, to talk about her career and to handle some jerseys to the winners.
The day went on under some unbearable heat (outside) and pretty cool inside WNT-Rotor car. It was a bit heart-breaking to see Laura Asencio having to drop from the breakaway because of a flat-tyre. The bike change was incredibly fast, but still it left her with no options to catch her breakaway companions.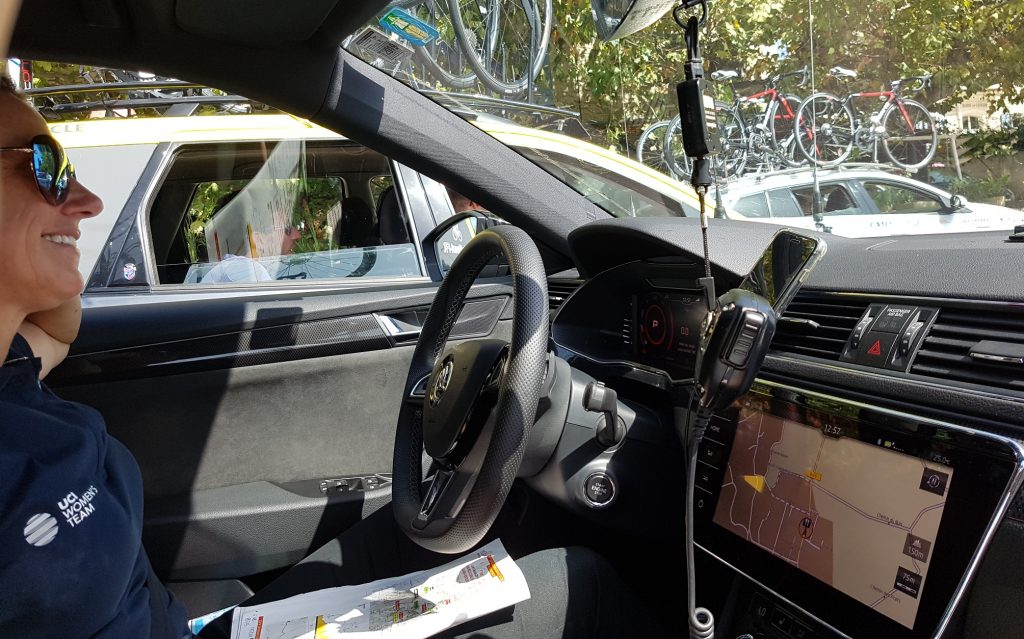 Conversation with Kim Palmer was very interesting, giving me light on the present situation of the Australian development programme. Unfortunately, not very good news: the programme has no funds right now and it has come to a standstill.
The hilarious quote of the day belongs to Arlenis Sierra: I asked her and some compatriot whether it was her 1st time in Ardèche and, guessing it was, I dared to ask how they were feeling: Arlenis' reply, with eyes wide open and that distinctive Cuban accent: "ouch, this is soooo hard, I won't come back!"

STAGE 5: ST-GEORGES-LES-BAINS-ST -FÉLICIEN
It is not every day that you have the chance to see the race from number 1 car, so stage 5 started on a high! I had been with Jeroen Blijlevens and CCC (Waowdeals by then) during their victorious stage at Bira 2018 with Sabrina Stultiens -, so I hoped to be of luck, even if this time luck was not really needed given the total control that the leader and her team (consisting of 2 from day 3!!!) were showing.
The stage went smoothly for the leader team, with some weird tactics from WNT, who were pulling from the beginning as if they were leading the race. After several attacks, only Bastianelli could get a consistent gap, which she could keep to the finish. A 75 km solo breakaway could be very well be one for the records, and the Italian champ washed away a bit of the disappointment of the previous stages, when she was not feeling that well.
Apparently, no team wanted to attack the leader, even though it just consisted of 2 riders. Were they solely aiming the secondary places of the podium? Were they too afraid to lose their positions? It looked like that, and it was a real shame from a racing point of view. I shared some of these thoughts with CCC staff and Marianne herself after the stage (yes, it is delirious: ME explaining tactics to the best tactician in the peloton) and I can say she was shocked nobody threatened her lead. Nobody did and nobody even dared in the following days.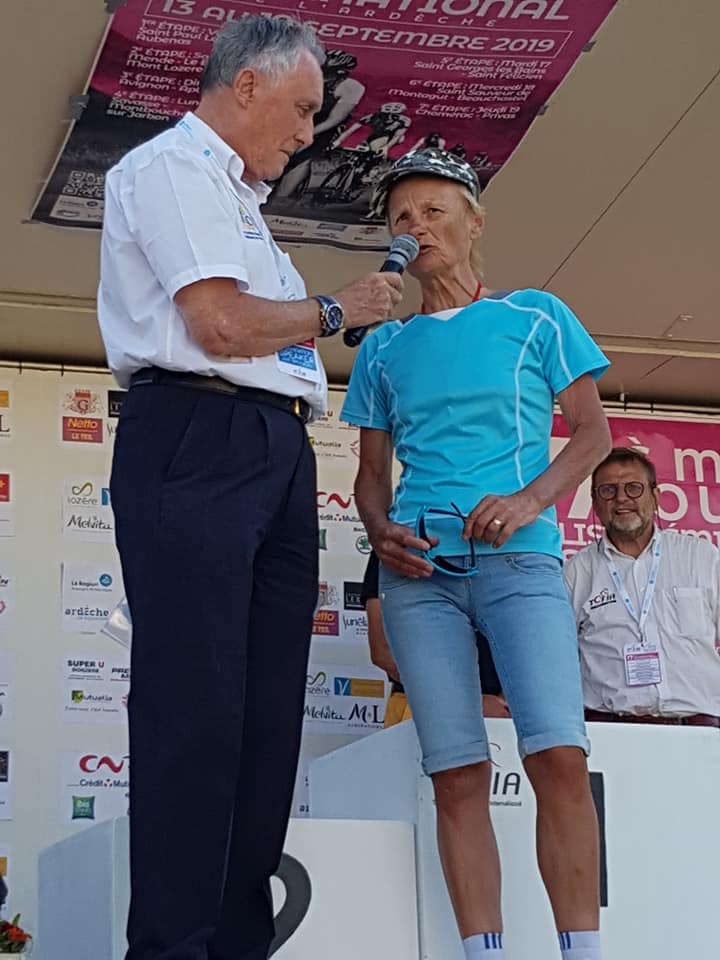 STAGE 6: ST SAVEUR DE MONTAGUT-BEAUCHASTEL
I had met Carmen Small the previous day and, given the fact that this was Virtu's last race, I wanted to do the stage with her. I'd be part of women's cycling history, I could tell to my grandchildren that women's cycling was still in need of a lot of progress and evolution back in 2019 because, you know what, they let one of the best teams die after 3 years of great racing, fantastic riders and many successes. What an irony.
Riis (Virtu's owner) is not interested in women's cycling. He does not see the business happening. He will probably regret this decision in the near future. Meanwhile, Carmen and the riders will find new teams and new challenges, no doubt about that.
The parking of the teams before the start was a sort of paradise, with a river flowing next and tempting us all to have a swim before the departure. Urška Žigart told me about the merge Alé-BTC … and that she is Pogacar girlfriend. Later on, her trainer got in touch with me with in perfect Spanish trying to find out about her performance. More than a "coincidence"!
The landscapes we witnessed were simply amazing, and the journey in Virtu's car becomes some of the best I've ever had in a team's car. Carmen and her mechanic/friend Lucca are talkative, charming, funny and we share some unforgettable conversations. Moreover, Carmen Small is a brilliant director. Just to give you an example: Anouska Koster, dropped from the bunch, was literally sobbing with pain climbing the 1st QOM of the day. Carmen did a great job calming her down, telling her to find her rhythm and not trying to reach the front, giving her water and bars, reminding her that the time cut was huge, so there was nothing to worry about.  It was a great display of leadership. And Anouska finished 25 minutes from the winner (far from the 40 minutes from the last) and with a smile on her face.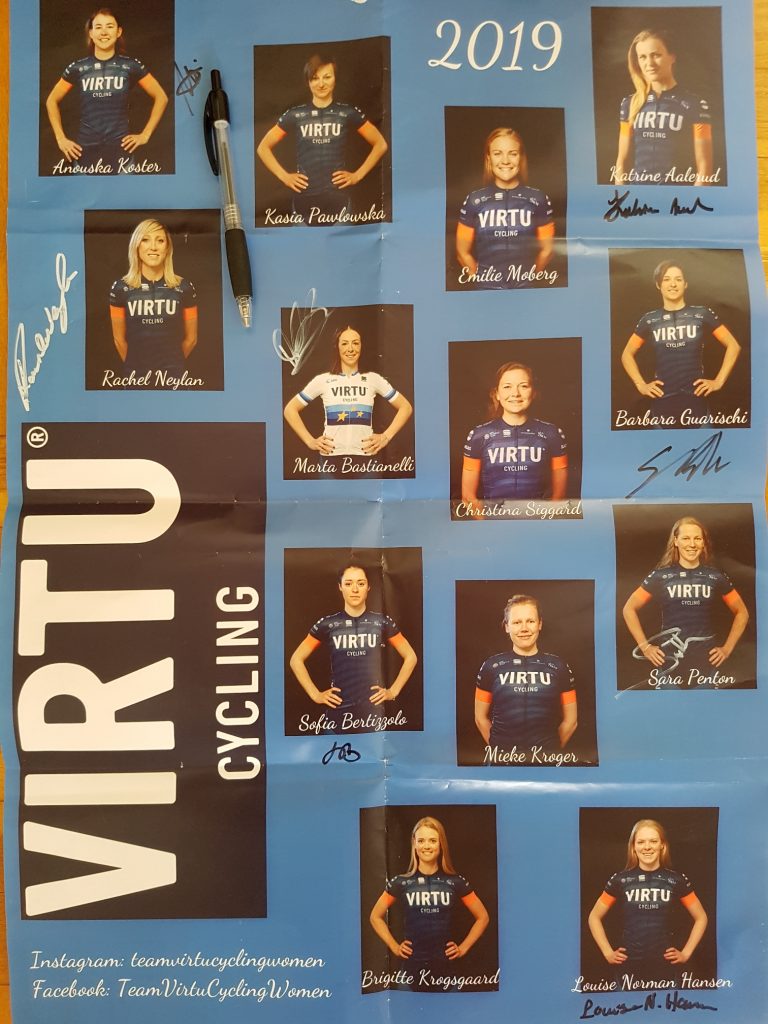 Regarding the merely sportive, it was another display of greatness from Her Majesty, attacking at the likely most technical descent of the whole week and taking 1 minute and 30 seconds advantage to Clara Koppenburg, second of the stage. She got the prize of being the only one to try something.
In the same descent, a scene which made us freeze: Ella Harris climbing her way up a turning with a terrified face. She was part of the chasers of Marianne and Clara, and she lost control of her bike in a turning. That was a devilish road, with gravel included.
STAGE 7: CHOMÉRAC-PRIVAS
The last stage was spent with Hans Blom & Stefan van Klink, both D.S. of Biehler and SwaboLadies. It was great fun and the stage started with high expectations from young Teuntje Beekhuis, who had been in the successful breakaway of stage 4, and who had shown a memorable consistency and attitude throughout the whole race.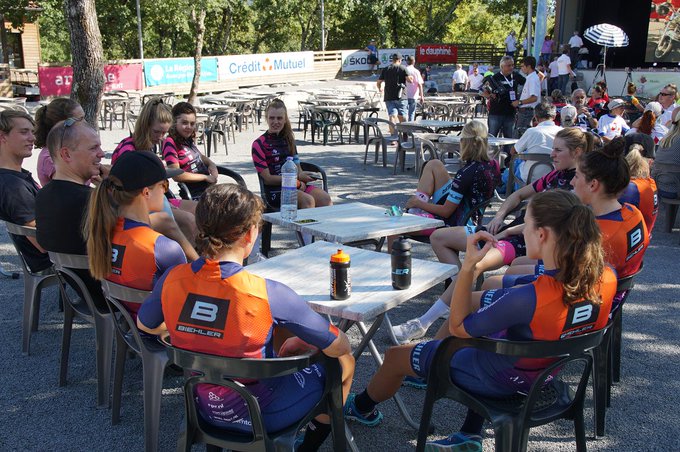 I love, if the chance is given, to spend stages with all sorts of teams: from top teams to modest ones. Biehler (and its younger sister SwaboLadies) is a Dutch team who is focused on development, and it is so enriching to see their approach to racing. It is full of passion and bright ideas, and it is no wonder there are some great talents in the making in its roster.
It was magical to see Teuntje Beekhuis fighting not to lose ground in a little group following the main bunch. When the final part came, I could witness the enthusiasm growing in the car: both Hans and Stefan knew Beekhuis is a great descender, so we were watching, like in a movie (only popcorn missing) a great display of abilities from her part. And she did not disappoint us. Her last kilometres were epic, she took distance from her followers descending like a fearless devil. Chapeau to her. Chapeau to Biehler and SwaboLadies for all they do for the base of women's cycling.
Highlight of the stage was the moment Hans assisted Anouska Koster (in the same group as Teuntje) with some moral support and bidons. It was great to witness this sportsmanship and the smile on Anouska's face. That was sport at its best.
At the front, Marianne won her 5th stage with Nikola Nosková second. The Czech was ecstatic with her performance, she had felt great the whole stage and it seemed that her problems were gone. The week finished in a high and, significantly, she gained valuable UCI points ahead of 2020 and Olympic classification.
EPILOGUE: PARTY TIME
Can you believe it? The race was over. WHAT A RACE. Full of laughter, heat, mountains, heart and soul. TCFIA won't be in the record books for its flawless organization, neither for its security standards. But it has been the hardest stage race of the calendar. It had mountains, real ones, and these are unfortunately absent from the women's calendar.
And it has a dedicated bunch of volunteers who work real hard to make riders and teams feel at home. I felt at home. MERCI BEAUCOUP, ARDÈCHE!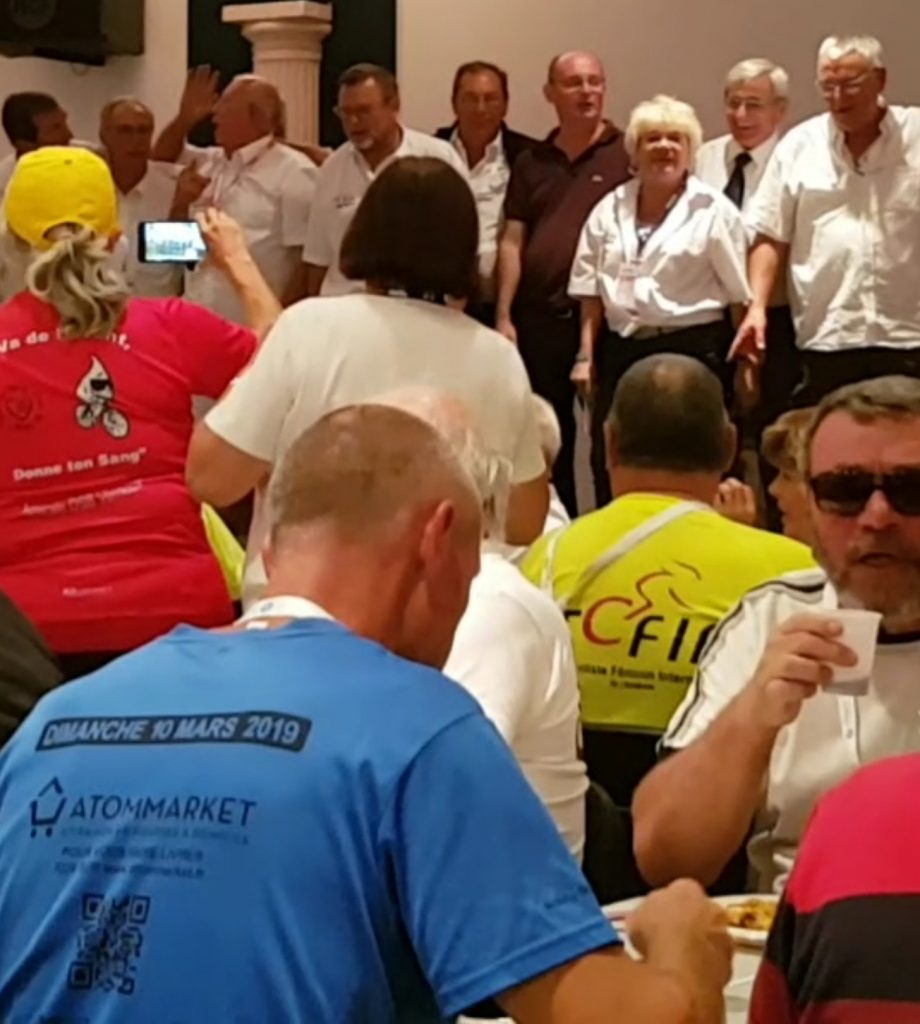 The final party time with all the volunteers was great fun: wine – the region is well-known from its vineyards- food, singing and dancing! I have quite a knowledge of popular songs from the region now.
Unexpectedly, and once the party was over, I bumped into 2 of the guys who had been at the party and they invited me to a coffee in their caravan. It was late at night, we were alone in an empty parking (the one which had been filled with the teams' cars and vans early in the morning) and we had some of the most passionate (as erotic as all this seems, I am afraid I am going to disappoint you) exchange of pictures and experiences from our shared love towards the sport. These guys are hard core fans, the ones that travel miles to attend a women's race and that treasure every single pic of riders in their old Nokia.
I will treasure that coffee and your company, guys, as something really special in another glorious chapter of my cycling adventure.