At only 21, Australian talent Sarah Gigante has already experienced more ups and downs in the sport than many of her veteran colleagues. Illness and injuries define her career so far as much as success does, but she's currently on the rise and determined to put her progression back on track as she learns from the best at Movistar Team. We sat down with the affable and charming rider from Melbourne for a long, relaxed conversation which took place the day before she won her first ever European race at Emakumeen Nafarroako Klasikoa.
Words: Saúl Miguel
Photos: Sprint Cycling Agency / Movistar Team and Naike Ereñozaga (@naikefotosport)

Family matters
The first thing you may notice when you get the opportunity to talk with Sarah Gigante is her positivity. There's a constant smile on her face and some sort of child-like enthusiasm in the tone of her voice. But if there's a word that describes Gigante better than any other as a sportsperson, it's competitive. Some people seem to find their competitiveness in sport after watching a certain race, or following some sort of role model, normally at a young age. Gigante didn't need any of that, though. You could say she was almost born with it, and her background helped.
"We were always an active kind of family, very much into camping style holidays. One of the holidays we loved to do every year is called the Great Victorian Bike Ride, in Victoria, Australia. It's basically a camping trip where you ride your bike and stay in with many other families and nice school groups. You ride something like 90 kilometres on average for 9 days, sleeping in tents each night and taking your bags from one stage to another. It's so much fun, a super great experience. I first did it when I was 5 and then at 6, but I was attached to my mum's back. Then at 7 I did it on a tandem, but eventually I had to told my mum that was sick at looking at her backside!", she recalls.
That's how her competitive nature started. For the next time, at only 8, she already wanted to do it on her own bike, even though it's nearly 600 kilometres in a week. A long way, which her mother wasn't so sure about. "My mum googled 'cycling clubs for kids' in Melbourne and up came Brunswick Cycling Club, which wasn't the closest one – we lived in the outskirts of Melbourn, and the club was much more in the city – but it was apparently the best, as the focus was on kids having fun with their families. We put my brother's mountain bike in the back of the car and drove down on a Sunday morning. We met the man running the clinic for beginner kids there, a man called Dave who always dresses in funny pink outfits because he says that makes him seem less intimidating to the kids", says Gigante with a laugh.
The story continues: "As we jumped out of the car, Dave greeted me and said the bike my mum put out of the car wasn't appropiate. 'You need a real bike!', he said, and that was a track bike. One gear, no brakes… With this bike, my first race was a one-lap time trial they called the 30 second challenge, because if you're really good then you can beat the 30 seconds. One lap and a bit on the track, individual time trial. I took 1 minute and 28 seconds, one of the very very slowest kids!" But it was a start. "I started off doing track that year and I loved it so much. When the clinic ended, and that would last for 6 months until it started again, I found myself missing it so much I realised I had found the sport that I loved. I was still doing some basketball, swimming… but I really fell in love with cycling."
So much, that she kept doing laps after the race had finished, just for fun. Her adventures in road cycling would start a year later, but Gigante keep doing track for a long time. "Dave allowed me to try the indoor velodrome, which normally would be for the bigger and faster kids. I was initially so slow that I couldn't race with anyone else because I was a lot slower. When I got faster I started with road cycling and I kept combining road and track until the junior Worlds, but after that I focused on the road. It wasn't an immediate choice. It was after I won the national road title in 2019 that I got really busy with road. It's not that suddenly I didn't love track anymore, I simply started to fall more in love with road", she adds.
The right to dream
Back then, when she started, Gigante didn't even know that professional sport existed. It was after she started than she got also hooked on watching cycling on TV. "I loved watching the Olympics more than anything. I sat there and watched track cycling – the whole thing from start to finish. But when I started I didn't even know that there was something I could dream of making a career of, it's just that I loved going fast on a bike."
Women's cycling has grown so much in the last few years that it's so much easier now for younger girls to be aware of the existence of the professional sport, as an inspiration to start with. Sarah recalls how different it was not long ago. "Even when I realised there were some really high level, professional cyclists, I couldn't watch women's races on TV. At the Olympics it was the one time I could see the women just like I could see the men", she says, as she continues describing how different the impact on a little girl can be. "The Tour de France wasn't the kind of race I loved to watch as a little girl. It's not because of the guys weren't impressive, it's just because it's amazing to look up to someone and imagine yourself being there, and I couldn't imagine myself in the Tour because there were no women there."
According to Sarah, having a Tour de France Femmes this year is going to be a milestone for precisely those reasons. "The fact that so many little girls across the world will be able to watch the Tour de France and see a whole peloton of women doesn't mean anyone can go and ride it, but it's nice to be able to dream and it will make a difference."
Ups, downs and the shock of European racing
Talking about milestones, one defining moment in the career of Sarah Gigante was the day she won the national road title in 2019. She did it at 18, with an impressive solo ride against the whole Mitchelton-Scott team. "It was funny, because two days before that race was the criterium race, one of my first competitions as an U23, after having raced the Bay Criteriums the week before , in the first week of January. I remember, specially after the national crit, that the step between junior and U23 category was so hard – not that I wanted to give up at all, but I thought that I still had so much work to do, that it was crazy the elite women were so strong. So when I crossed the line a couple of days later and won the national road title I realised that yes, the gap was huge, but it wasn't impossible! That was the day I thought I could dream big", she concludes with a big smile.
A big win tends to be the thing that stands out for the spectator but, when asked about the performance she's most proud of, Gigante doesn't necessatily pick a victory and gives a more elaborate answer instead. "Normally I'm most proud when I work really, really hard and overcome something difficult, without giving up", she says. "I've had quite a few challenging moments when I had to work really hard. There was a couple of races that were such a surprise and left me in shock, after a lot of hard work involved. One was that national road race title, and also the national time trial title one year later."
Then she continues with something different. "I had a hard 2020, with hardly any racing in Europe even before covid. When covid hit, I didn't get to come back to Europe and instead I was in Melbourne in lockdown. It was super, super long. We had a 5 km radius to keep riding in the middle of the city for something like 12 weeks and we could be outside for one hour for exercising. It was a really hard year mentally, watching the races from Europe but being still in lockdown and not being able to do the bunch rides which I love. But I was still proud of myself for still working hard the whole year."
The pride didn't only come from herself, but also for the support around her. "My mum was of course there all the time but I also had great support from Dylan Lindsey, my coach at that time. As a result, when I came out of that really hard year I was in the best form of my life, and still right now it's the best form I've ever been in. I won the Santos Festival of Cycling and the national time trial championships. It wasn't the wins as much as the fact that I had overcome quite a lot and with the help of some incredible people I was able to come out of it the strongest I've ever been. That was just really special."
For Gigante, then a rider of the American TIBCO-SVB team, 2021 would finally be the year in which she really got to know the European way of racing after a first and too brief glipmse of it in early 2020. It was almost like discovering a completely different world. "I'm still learning. It's still too hectic to me, and not the same way of racing I did growing as a junior in Australia, that's for sure. The peloton is so much bigger, the way the teams race is completely different… even before this week in Spain, I have to say I had never done any descent before that lasted for more than, say, 10 minutes, with all those hairpins. I did 7 European races last year, and 5 races so far this season, but it's still not quite enough races to feel like I'm natural with it yet, that's for sure."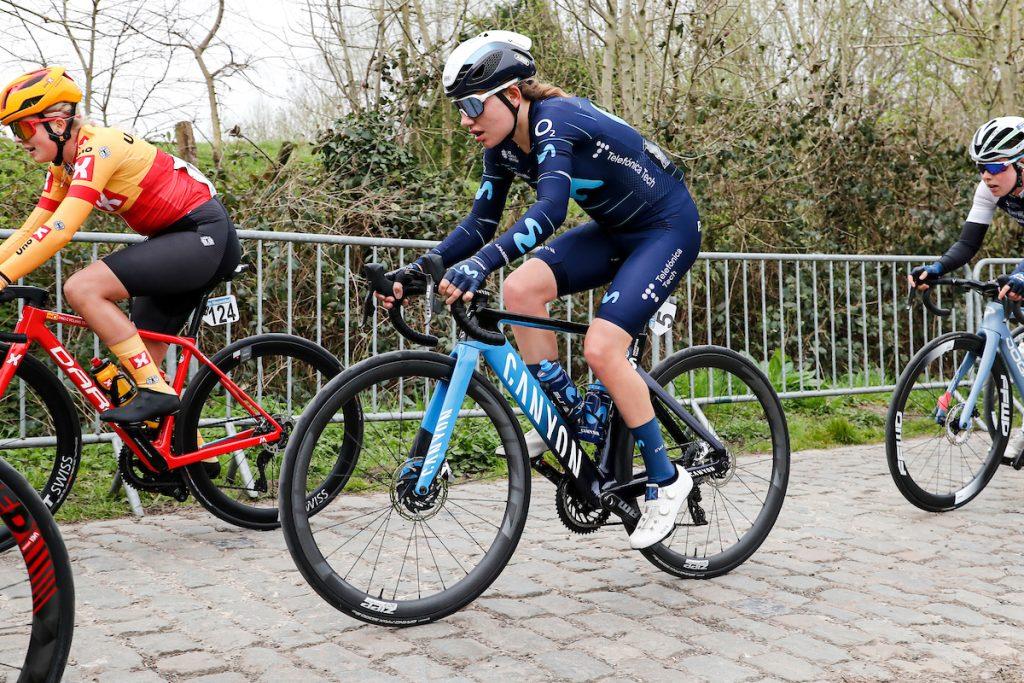 She continues with the description of what riding in Europe – specifically Belgium – feels like. "If we ignore this week with the Spanish races, which I love, I have only raced in Belgium in the last two years except for Trofeo Binda in Italy. It's a shock! Something like racing on cobblestones,  going up those short, steep hills, that's something we don't have, and the weather was so, so cold! But the crosswinds was the worst part", she admits with a laugh. "I remember how I was nearly blown off my bike during a race in 2020. It's a big step for any Aussie, and it almost feels like a different sport at first. But now it's starting to feel more than the cycling I enjoy in Australia."
The Olympic rollercoaster
Sarah Gigante was selected for the Tokyo Olympics last year as a member of the Australian team for both the road race and the time trial. Undoubtedly that was a dream come true for a 20 year old rider, even though her preparation wasn't ideal. A heavy crash in Fleche Wallonne left Gigante with a broken collarbone, elbow and fibula, which effectively put a premature end to her European classics season. Gigante recalls that rollercoaster of memories. She finished 11th in the time trial, just one second shy of the top-10. "At the time I was disappointed with my performance in the Olympics. I hadn't raced for three months, training all the time with the focus on the event while still going to the physio and recovering. It was a bit too long I think. Also, I had no idea what to expect", she admits, "as I had never raced a time trial at that international level before – I had never been to World Championships."
But that impression changed for the better soon afterwards. "Initially I was disappointed, but then I thought 'hey, I'm an Olympian, something I wouldn't have dreamed of, even the day before the selection was announced'. I think I was disappointed right after the race, but then after 24 hours I realised I had tried my best, I did everything I possibly could, especially in the 3 months leading up to the Olympics. It's easy to feel down after such a hyped event, as when you're looking forward to something for so long and then it's over, it's hard to deal with that, which is completely normal I think. But it didn't take too long to realise I got to go the Olympics at 20 years of age. I feel proud of what I overcame and very grateful of all the support I had. And, above all, I'm so happy that I could be there and live that experience."
The came the lowest part of the rollercoaster that defines the Aussie's career. Not long after Tokyo she started to feel unwell and was diagnosed with myopericarditis. Even for someone as apparently lively and enthusiastic as Sarah Gigante, it was hard to stay optimistic. "Especially the first weeks, when I was so sick and everything was so uncertain it was a really horrible feeling. At that time it was the support I had that make it bearable. It was a really unpleasant situation, and super scary, but I had the best support ever. Initially my mum was stuck in Australia because of the travel restrictions, but my brother, who lives in America, came and stayed with me the whole time. Also many of the Australians who live in Girona came and were so lovely with me. All this support made it everything okay. Even though it wasn't easy, I got through it."
There was also something one of Gigante's former teammates had said to her back when she was in a world of pain with some broken bones in both of her arms after an old crash: "Sarah, it sucks now but one day this should just be a bad memory." She hasn't forgotten those words of encouragement.
Gigante was still on her way to recovery when Movistar Team announced they had signed her for three seasons. That gave her another reason to look forward to. She emphasizes that the team showed patience and understanding with her from the very beginning. "I hadn't started training yet but they said that I shouldn't worry, that there were lots of options to start the season later, in April, or in May… there was no rush. That was really nice. Looking forward to meeting my new teammates and all those amazing people was always on my mind as a motivation. Once I started training again it was so easy – I have never had problems with motivation but that was extra easy. I was so grateful to be riding my bike again, so grateful to be healthy, and I had this amazing future to look forward to. I remember I was so, so excited for that first team training camp in January."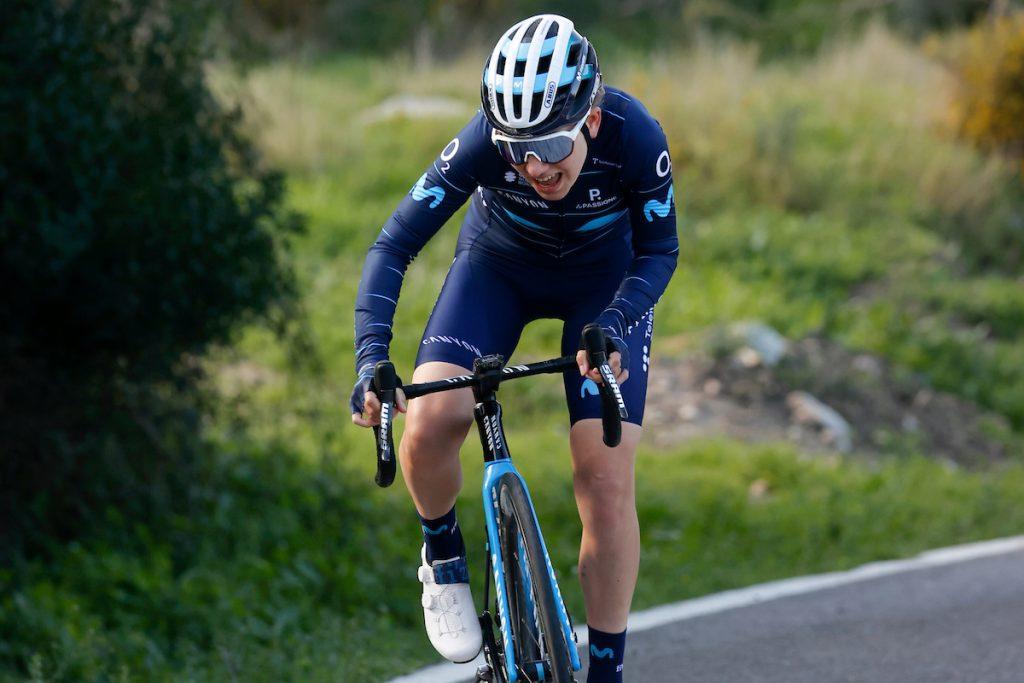 Of role models and (no) coffee stops
Anyone who knows something about Sarah Gigante has probably noticed she's been looking up to Annemiek van Vleuten for a long time, as shown in older interviews, long before moving to Europe. Now they are teammates in Movistar Team. "It's so cool", she enthusiastically affirms. "Since the Rio Olympics I remember looking up to her, all the way back since 2016. After Rio, I think it was that year, she came to Australia and she raced something here during the Australian Summer. That was my first year as a junior, I think, and we were allowed to race with the elite women. I don't think I finished, I think I got pulled out, but I remember seeing her at the start line and thinking it was amazing to be there with her."
"Then, when I went to Belgium in 2019, we just did some local kermesses, but one of the kermesses had Marianne Vos, Anna van der Breggen and Annemiek van Vleuten in it. I don't know why – it was quite a small race, but they all came, and I had so much fun, taking selfies and everything. So yeah, to be teammate of Annemiek… I wasn't much help in Dwars [note: the only race they've done together so far], but I hope I can help her in the coming races, I'd really love that. It's also super cool that she's a really nice, down to Earth person as well", Sarah mentions.
Considering that just about every single cyclist in the world seem to love coffee and appreciate coffee stops, it sounds funny that Gigante is an exception to the rule. Believe it or not, she doesn't like it, despite coming from Melbourne. "The coffee in Melbourne is apparently some of the best coffee in the world. That's where I also have some of these amazing group rides, and yes, every group rider is like 'hey, coffee stop!', and then I sit there awkwardly, with my water bottle", she laughs.
The European way of living
Just like many other Australian and other English-speaking riders, Sarah is based in Girona and spends most of the cycling season there. As said, European racing can be sometimes daunting for unexperienced Aussie cyclists, and then there's the fact they have to live for months far from their homeland, their family and friends. That doesn't make it any easier, as she admits. "The times also make it really hard, because if I ride in the morning, by the time I'm back from training all my friends and family are asleep, so one of my tactics is actually to go riding at around 1 pm, because then I can spend all morning talking to my family and friends. I also like to do my university work before I go sometimes, as I'm fresher in the mornings."
Another of her 'tactics' is to try and make Europe her 'home' as much as possible. "Like I said I try to stay in touch with my friends and family, but I also try to make friends here, because if you feel like you're always away from home, it gets hard. I really like my home in Girona now – I even found myself saying 'hey, I'm going home' after Binda for example, and I was referring to Girona. I'm super lucky to share it with two amazing roommates now. When I started, I lived by myself, which can be very lonely. Because I wasn't racing for some time last year, I didn't really talked to anyone for a few months [she laughs], at least in person, which is my own fault too. That was really bad, and I'm so much happier now. I live with Ruby Roseman-Gannon and Kristen Faulkner from Bike Exchange, which means every day I can talk to two amazing people, and it's easier to plan riders together when you live together. I'm really happy now, where I live. It makes a huge difference."
A bright future ahead
It's usually harder to describe a rider's set of skills when they're younger. Some would say Sarah Gigante is a time triallist, others would maybe mention the word 'climber'. She's quick to say: "Sprinter!". Oh, she's kidding, obviously. "No, I love all kinds of racing, except for cobbled racing", Sarah jokes again with her perennial smile. On a more serious note she adds now: "I love time trialling and climbing. The hardest the race, the better". Hmm, that sounds familiar for anyone who knows a little bit about a certain current teammate of hers. "When it's about who's the strongest rider, that's when I can show my strengths. That's what I really enjoy too, a race of attrition, when the peloton eventually gets smaller and smaller and everyone is cooked. I love that, those days when you end up absolutely exhausted, that's the best kind of race."
She even mentions how her dream race would look like. "It would have a time trial every second day – a hilly time trial, preferably [she laughs], and then every other day can be like a mountaintop finish."  Well, perhaps not the most common type of race in the women's calendar, but at least the mountains seem to be featured a little bit more frequently nowadays. Gigante is also working hard to improve her weaknesses. "One of the things this team wants me to improve at, which I think it's great, is my explosive power for something like the short, steep climbs that appear in so many races."
As said, this interview happened on the eve of the Emakumeen Nafarroako Klasikoa, a race Sarah Gigante would end up winning and, therefore, her first win wearing the Movistar colours and also her first win in Europe. Even before that, there were already some strong signs in the last few races that the Aussie talent was slowly getting back on track after many months of uncertainty and recovery. It's been something important for her, mentally. "Yeah, I didn't mind the results and stuff, but this feeling like I'm back to normal, that's what makes me so happy. I can finally forget what happened last year, close that chapter. I'm on the path to getting stronger and becoming a better rider."
"It's already so satisfying that I'm able to do my job at the races again, and then my teammates have been amazing at finishing it off", she says. Gigante has been an essential part of the team in Vuelta a Andalucía, contributing to the teamwork that led Arlenis Sierra to the GC win and, at the same time, finishing herself in quite a decent place in the GC: 15th. Ther same can be said about her work for Jelena Eric at the GP Ciudad de Eibar. "It feels like everything is coming together again. I'm getting stronger, and I've discovered a new type of racing which I really love, and I'm learning so much in every race. I love it."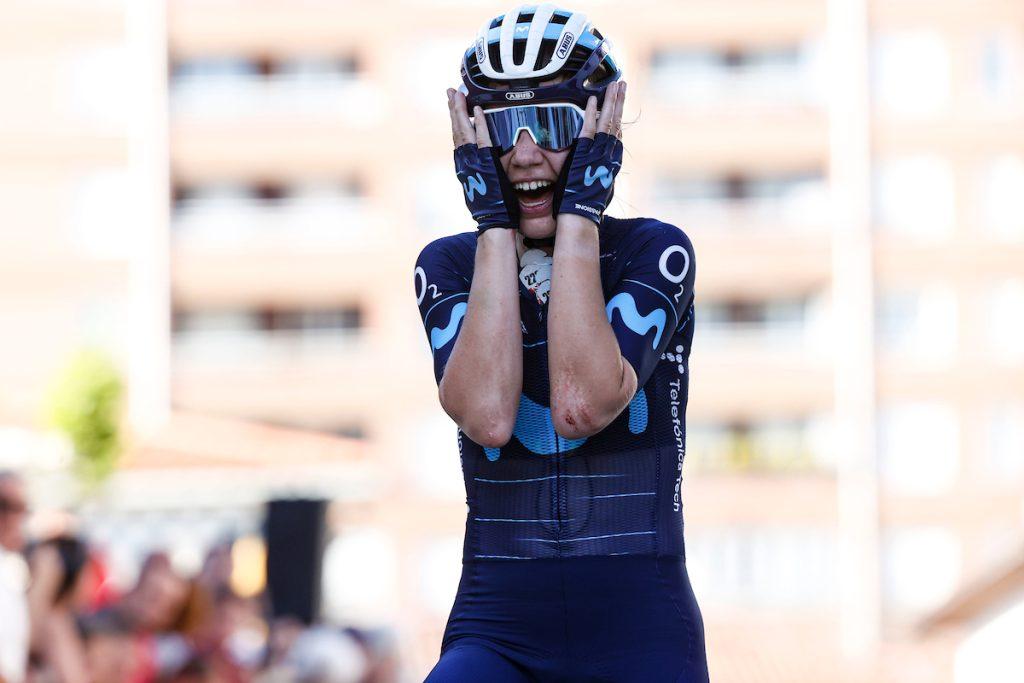 When it comes to the rest of 2022, Gigante still has a lot of offer, and so many things to be motivated at. One of them is, obviously, the World Championships in Wollongong, Australia. "I would absolutely love to go. It's the first time there will be an U23 women's World Championship, or a jersey given, at least, and it's my last year in the category! It's going to be difficult to be selected because there aren't U23 spots, you have to be selected as a part of the elite team, and we have some strong Australians. If I could be there, that would definitely be one of my goals, to line up there, especially for the time trial. But the road race is very hilly and looks great, too."
She continues: "It's not often that you get the World Championships in Australia and, as an event my family could come to, that would be amazing, but yeah, it's hard because I don't know if I'll be picked or not. I think, if I had to pick one goal, it's that I'd like to get to the end of the season, look back on the year and hopefully have lots of race days and be able to say that I had a great time, that I learned so much as a rider, especially in the European type of racing, that I was a good teammate and that I had a lot of fun. And try my best! But I always try my best, so hopefully that's not so much of a problem!", Sarah concludes with her trademark big grin.
Be ready to see more smiles on (fast) wheels in the coming months on European roads and, maybe, also in Australia towards the end of the season.