A conversation with the current European road champion and three times World champion
Words and photos by Saúl Miguel (unless stated otherwise)
'Challenge' is one of the words that appears most often in a conversation with Annemiek van Vleuten. It does for a reason: that constant quest to challenge herself is the driving force behind the Dutch rider. It shapes the way she trains and her decisions throughout her cycling career. It keeps her motivated and energized, always eager to find new ways to set and achieve interesting goals, with a genuine, almost child-like enthusiasm that makes it easier to understand why she is still improving and hungry for more after having already won most of the big races that can be won in cycling.
This approach also partially explains why she – unexpectedly for some – has chosen Movistar as her team for the next two years, after having spent five very successful seasons with Mitchelton-Scott. But, of course, not every challenge is self-imposed. Many come from the outside, and Van Vleuten has had to overcome many of them throughout the years – some in the form of injuries and setbacks, but also others that can be explained mentally, created by her environment.
Overcoming doubts
If one looks at her past results closely, there were many instances early in her career that showed there was good climbing potential in her, such as winning the 'queen' stage of the Emakumeen Bira in 2012, an uphill finish in the Giro in 2014, where she finished 8th in GC, or even her performance on the Stelvio at her first Giro, in 2010. But neither her nor the people around her believed in that and none of those results resulted in a turning point for her.
"I was in the completely wrong team to develop those skills", she says. "With Marianne Vos, Pauline Ferrand Prevot and Anna van der Breggen they didn't need another climber, so it was the wrong team to start to believe in you and make a plan with you to improve." That turning point would eventually come, but it had to wait a few years. "Normally in a team they'd say 'Hey, she has some qualities and we can develop that', but that turning point started later when I joined Mitchelton-Scott [2016, back then called Orica-AIS]. They didn't have a climber, they didn't have a GC rider and they started to believe in my abilities. Then you also become part of the plan."
"it had always been said to me that i wasn't a climber. That became like a mantra that stays in your head"
However, those doubts from earlier years weren't going to disappear in the blink of an eye. "When they said 'Maybe you should target the Giro' I replied 'No way, I'm not a climber!', because that was what always had been said to me: that I could win maybe 95% of the races, but not the climbing races. It's something that starts to get stuck in your head, that I wasn't a climber: I was a classics rider, but not a climber. I was strong, but not for climbing. That became like a mantra that stays in your head. It took some time to get it out of my head and realise that I could actually climb."
The art of time trialling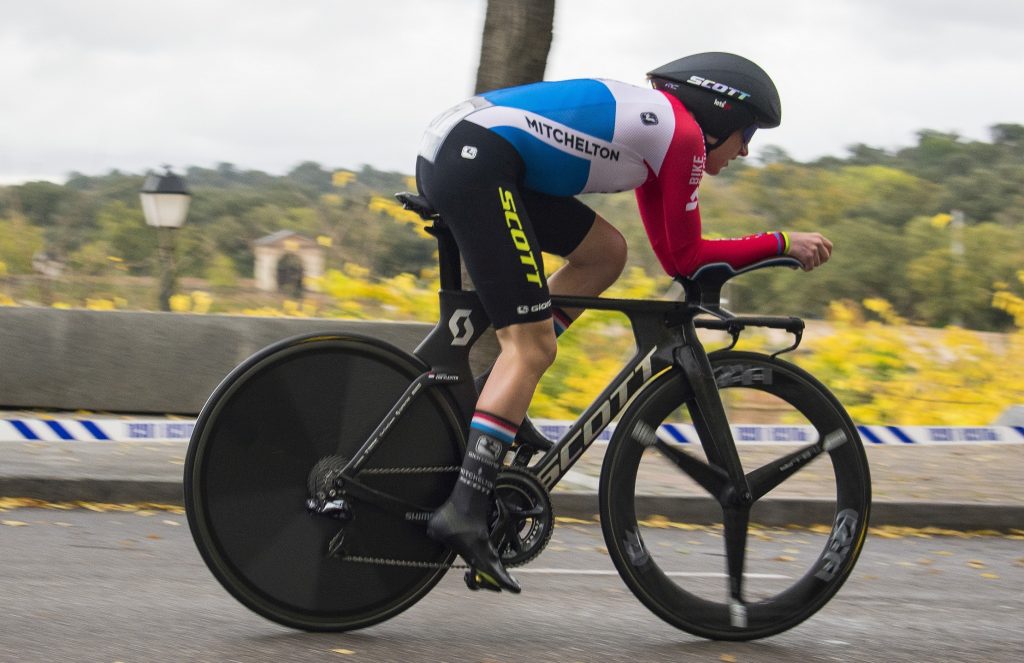 Van Vleuten is a double world champion in the individual time trial, plus four times national champion. She has won a staggering 78% of the time trials she has started in the last four years: more than three out of every four of them. However, it also took a long time for her to master this discipline – if one can ever say it's possible to master such a difficult type of effort.
But this one can be explained in practical terms, rather than as a mental thing. There is a telling example in the way she had to prepare for the World Championships in 2014, after having smashed the opposition with a terrific performance in the first stage of the Lotto Belgium Tour, as well as having won her first national title in the time trial some months before.
"In 2014 I was selected for the first time as a member of the Dutch team for the individual time trial in the World Championships. Yes, that year I went there for the win. I believed that I could maybe win that race. I was starting to believe in my time trialling abilities, but I have to say I didn't have a time trial bike at home yet. So even in 2014 they didn't believe in my time trialling ability either. Whenever I wanted to train on a time trial bike I had to drive one hour to the headquarters of Rabobank in order to get my time trial bike."
Unfortunately, Van Vleuten never had the chance of fighting for that title, as a big crash a few days before in the team time trial prevented her from starting the competition. She recalls those days with an almost shocked expression: "Rabobank was a big team, also a Dutch team but we didn't have the time trial bikes at home, which was ridiculous if you think about it now: when you are selected for the World Championships and you have to target the team time trial as well you should train a bit more on the time trial bike, so for me now it feels like a completely different world that I didn't have a time trial bike at home even though it wasn't long ago. That also gives you an idea of why you wouldn't believe in yourself as a time trial specialist when you didn't even have a time trial bike at home."
Any insightful viewer would have thought back then than Rabobank never seemed to perform in team time trials as well as the sum of their parts would have been expected to do. It was the big team of their era, the great constellation of stars, but not for that sort of effort. "There were two reasons for that", says Van Vleuten. "One, that we didn't have time trial bikes at home, so we didn't train on them, and another reason was that they only had one mechanic. So you can understand that with one mechanic for twelve riders there couldn't be any performance-related development to make the bikes faster."
It looks like a far cry from the highly detailed, scientific preparation of nowadays, where every little detail counts. "I remember at that time that it was said maybe we could do something with the bearings or give me faster wheels for the 2014 ITT Worlds, but eventually nothing was possible. I cannot blame the guy because he was doing all he could by himself – the team didn't have the budget for another mechanic or for a performance manager at that time, whereas other teams already had that, as well as additional support from the bike brand to make them faster. A part of the process of getting faster in time trials is also about material. We did some testing on the track that year but that was pretty much it. They didn't put money, they didn't invest in the time trial."
All things considered, it would seem surprising to realise that Van Vleuten managed to win 6 individual time trials in her three seasons with Rabobank. The potential was obviously there, but not the circumstances to develop it.
Van Vleuten started a new chapter in her career when she left Rabobank-Liv and signed for Bigla in 2015. It wouldn't end up being exactly a year to remember for a number of reasons, but there was something positive. "The one good thing about Bigla is that they provided me with a time trial bike at home." She was the fastest in 3 ITT's that season: in the Emakumeen Bira, the Giro Rosa and the Giro della Toscana.
"Time trials are not something that you start working on just two months before the event. It's a long process, you need to keep training for it"
Given the shockingly low amount of time trials in the calendar, especially in recent years, it's striking that Van Vleuten trains so much on the TT bike. She does it not just for the usual distances and durations of the effort, but a lot longer – even on the mountains.
It has a good reason, though. "The Olympic Games have also a time trial. There are few of them, yes, but I'm not training for the amount of races that are organised; you train for your goal instead, and my goal is the Olympic time trial next year. Time trials are not something that you start working on just two months before the event. It's a long process, you need to keep training for it."
And there's more than meets the eye. It's not just about being super aero and working on the position all the time.  Van Vleuten continues: "For example, getting better skills on the time trial bike is also a process of years: that's why I also train on the mountains with the TT bike. But I don't force myself all the time in the aero position – some riders would do it, but that's crazy. I'm also riding out of the aero bars, so maybe I only do one hour in the aero position as maximum, out of a four hour training ride. But you are also descending and climbing on the time trial bike, and you make yourself way more skilfull on it. It's very helpful when you have a very technical parcours."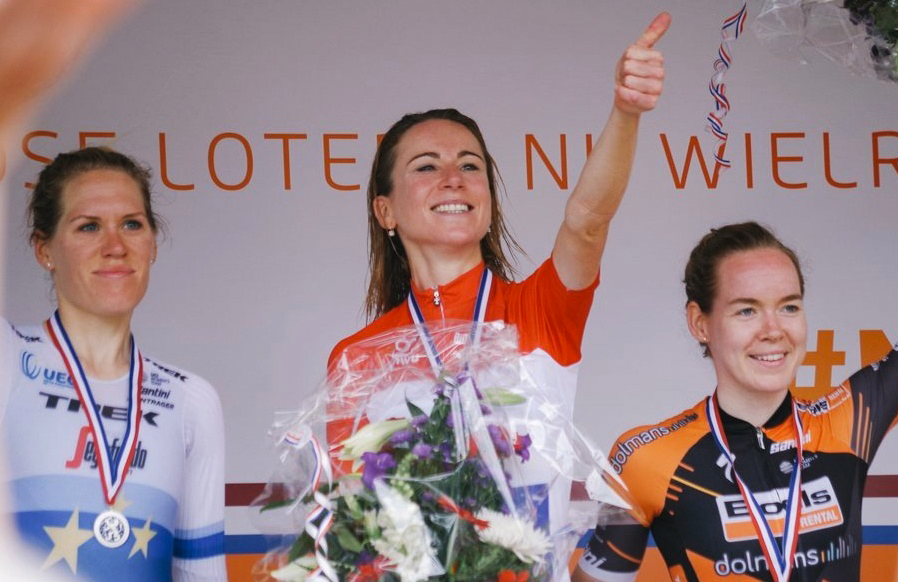 To sum it up, according to her: "Basically, improving your technical skills is a process of years. It's not only hard, intense training, I also do endurance rides on my time trial bike."
Judging by the evolution of the calendar in the recent years, for both women's and men's cycling, it almost looks as if the time trial is a dying speciality. Van Vleuten rode 7 individual time trials in 2018, 4 in 2019 and 1 in 2020. It's hard to understand why such a historically important discipline in cycling is being so badly treated by most organisers. Essentially, it's such a pure effort. You cannot hide behind a wheel, and there is some sort of craftmanship in the way one needs to work for it.
Van Vleuten's reasoning adds another point: "It's indeed really bad that there aren't so many time trials, not especially for me, but more for the younger generation. Time trialling is something that you learn by doing it: the more time trials you have, the more you develop your feeling for them. I can ride a time trial now without looking at my Garmin, because I already have that feeling, but the younger riders need to develop that. It's also useful to learn and experience the preparation right before a time trial. If you have only one time trial per year it's sh*t, and it's such a beautiful and important discipline in cycling."
Memories from the track
Annemiek van Vleuten is first and foremost a road rider, but she has also tried her luck from time to time in other cycling disciplines. Generally just for fun in the off season, such as her participations in mountain bike and cyclocross competitions – even though she has managed to win a handful of small races in those sports as well – with one notable exception: at the end of 2017, given her excellence in short prologues on the road, she started to prepare for the individual pursuit on the track, with the goal of competing in her 'home' world championships in Apeldoorn, in March the following year.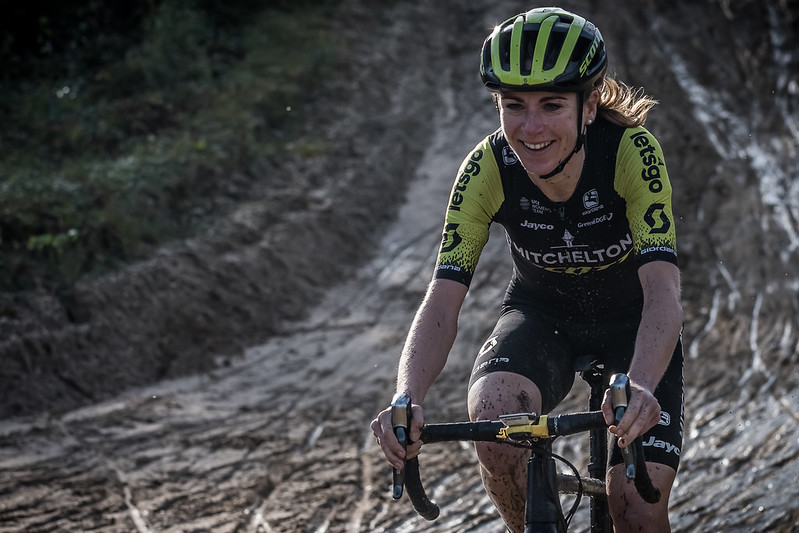 She got a silver medal by finishing second behind the phenomenon Chloe Dygert, who set a new world record there. A success, whatever way you look at it, considering Van Vleuten's extremely limited experience on the track. But some new challenges – yes, that word – arose there.
"The track was a successful event, but it's something I would never do again because it compromised my road training"
"The track was a successful experience for me", she says, "especially when you consider who was the rider who finished ahead of you, a real track cyclist who is a huge talent and a true specialist in the discipline. I was very happy to be the second best, the first loser", she laughs, before continuing: "In that regard it was a successful event, but I would also say that it was a disappointing event to join because as I prepared for the track I was not so good on the road. In that way it was disappointing and it's something I would never do again, because that spring I was less good on the road. I need a lot of work to get better and it compromised my training."
Van Vleuten finished the 2018 season with 13 wins. With only 2 of them happening before summer, the numbers clearly shows what she explains.
The other challenge was the nature of the event. Individual pursuit consists of two efforts in the same day: a qualifying round in the morning, and a second round for the medals in the afternoon. While the former was very good, she was never able to replicate the same level on performance in the latter, unlike most of the contenders.
There was an explanation for that, to be found later: "A lot of people said to me that it was a mental thing that I couldn't perform at the same level the second time, but I did a DNA test recently, last year, and it tells you a bit about your qualities, and I saw that it's in my genetics that I cannot do a second effort like the first one."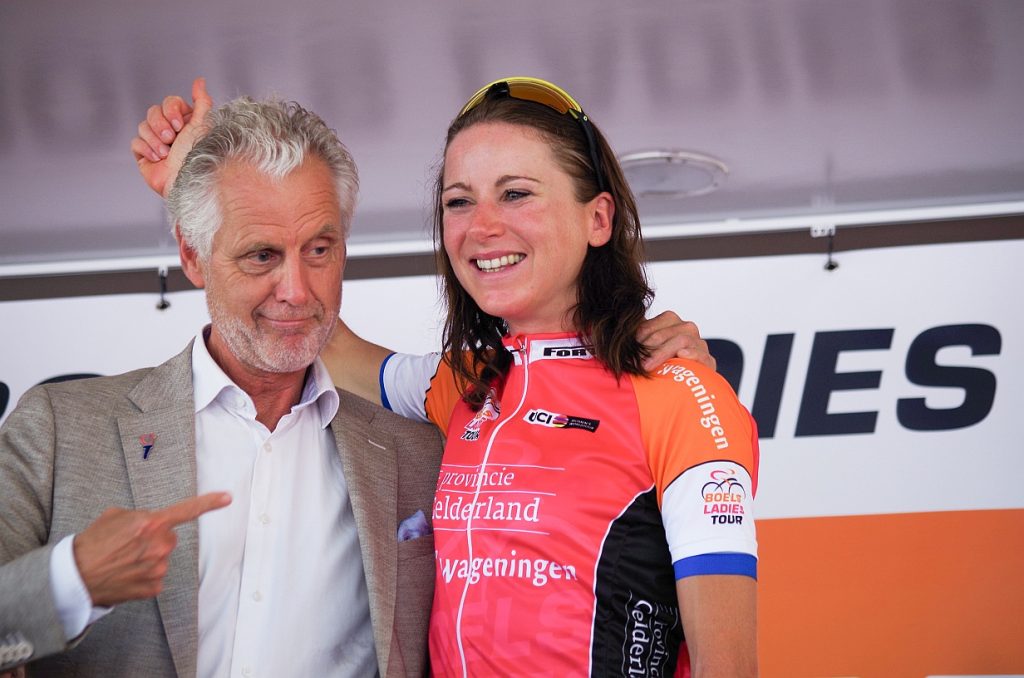 Not surprisingly, in hindsight she could see that it had happened on the road as well. "It was the same on the road, when we had sometimes double stages. For example in 2016 in the Auensteiner Radsporttage [a short-lived stage race in Germany] we had a time trial in the morning, which I won, and then I lost the leader's jersey in the afternoon. So according to my genetic abilities I can go super deep, very much into the red, and I can perform with a high level of lactic acid. But then there are two things: I can't get rid of the lactic acid really quickly (I have a lot of muscle damage after I produce all that lactic acid) and my recovery is not so good."
"So it was suddenly like a revelation: everyone was telling me that it was a mental thing but it wasn't, I truly believed I could also do it the second time, but whether it was afternoon double stages or the second IP effort there was simply not enough time for me to recover."
The 'discovery' was a relief for her: "I was super happy to see it finally explained with my DNA test. Very interesting to see a little bit of your qualities and some things that could be explained by that test, although there are some others that you cannot explain with that."
Sprinting matters
Van Vleuten's extraordinary proficiency in short, technical prologues – you need to go back to early 2015 to see the last time she wasn't the fastest in one of them – is the result of many hours, days and even years of training on the time trial bike, which have provided her with superb handling skills. However, there is also a physical factor about that.
"People underestimate my explosiveness and think I can't sprint, but if you look back at my results some years ago like in 2011, I beat for example Giorgia Bronzini sometimes in sprints. I'm not super slow after a hard race. In a time trial, if it's all in the red zone, with very high lactic acid, I'm still quite explosive. But yeah, I'm not explosive in a race when no one did anything and we just sprinted once at the finish, then I lose 99 out of 100 times, but if it's been a hard race, or a time trial where you've been in the red zone for some time, with a lot of lactic acid in my legs, then I'm still quite explosive. That was also in my DNA test, that I can produce really, really high levels of lactic acid, so in that way I'm a little bit of a sprinter."
It's not only in her genetics, but also in the specific work she used to do years ago. Jeroen Blijlevens, a notable sprinter during his cycling career and later DS of the team Nederland Bloeit, where Van Vleuten rode for two years, helped her improve that skill.
"When people get tired they lose a little bit of explosive power and it becomes 'the sprint of the dying swans', that's where I need to be good"
"After the 2010 season Jeroen said it would be good if I could target the overall classification of the World Cup for the next year, together with Marianne [Vos]. But maybe I wasn't the best rider, so I had to try and get points in every race – I even went to China to get more points. That's the reason why I started to work on my ability to sprint, even in big bunch sprints like those of Chomgming Island."
And even if she's not focused on that anymore, and hasn't been for a number of years, it's something you can never stop working on.
"I still do sprints, because it's a part of the training you need to keep doing in order to preserve some explosiveness, but at that time it was a focus point for me, to get myself into the final of those races, and nowadays I'm more focused on doing the sprints at the end of the training rides, for example at the end of a six hour ride. When people get tired they lose a little bit of explosive power and it becomes 'the sprint of the dying swans' as we say ['de sprint van de stervende zwanen', in Dutch], that's where I need to be good. In those sprints at the end of a race like the Tour of Flanders, after 150 or 160 kilometres, then I have more chances."
Breaking the preconceptions of altitude training
Or maybe we should say challenging the preconceptions, to sound more Annemiek-like. Anyway, altitude training has become a pivotal part of Van Vleuten's training schedule in the past few years. She often alternates racing blocks with altitude training camps during the seasons, definitely more often than the average rider.
However, despite the mandatory gaps in her racing calendar, she doesn't feel that it interferes with her competitions. "There aren't so many hilly races in the calendar that I want to target, so I don't feel that I have to compromise my racing days. I don't think I have ever skipped a race that really suited me because of my altitude training."
Perhaps it could be a good moment to discuss whether it's due to the fact that there aren't too many hard, truly selective races that suit her in the women's calendar, but that's another story. She puts an example: "Even if you think about a race like Trofeo Binda, the riders who mostly win that race nowadays are riders who can sprint. It's almost as it if was an uphill sprint finish – they stay mostly together and it's not often than one of them can ride away from the group. So I would have only a very small chance."
According to her, that selected calendar may actually work in her advantage. "I pick my selected races. I feel that by riding races like Trofeo Binda too, which I sort of like but don't totally suit me, I lose a little bit of my aggressiveness and eagerness to race. For me it's best not to focus on a lot of competitions, but for those few ones I'm super motivated and that helps a lot. I also know that I can train harder by myself than what I do in the actual races."
Quality over quantity, one could say.
"I feel like after three weeks of altitude training I'm ready for racing. I'm really ready to suffer, keen to suffer"
For the astute observer, there's something about Van Vleuten that likely hasn't passed unnoticed. Contrary to what the theory of altitude training says, she tends to perform exceptionally well right after coming back from altitude. On paper, the optimal benefit should come around three weeks after finishing that training block. She has apparently proved otherwise.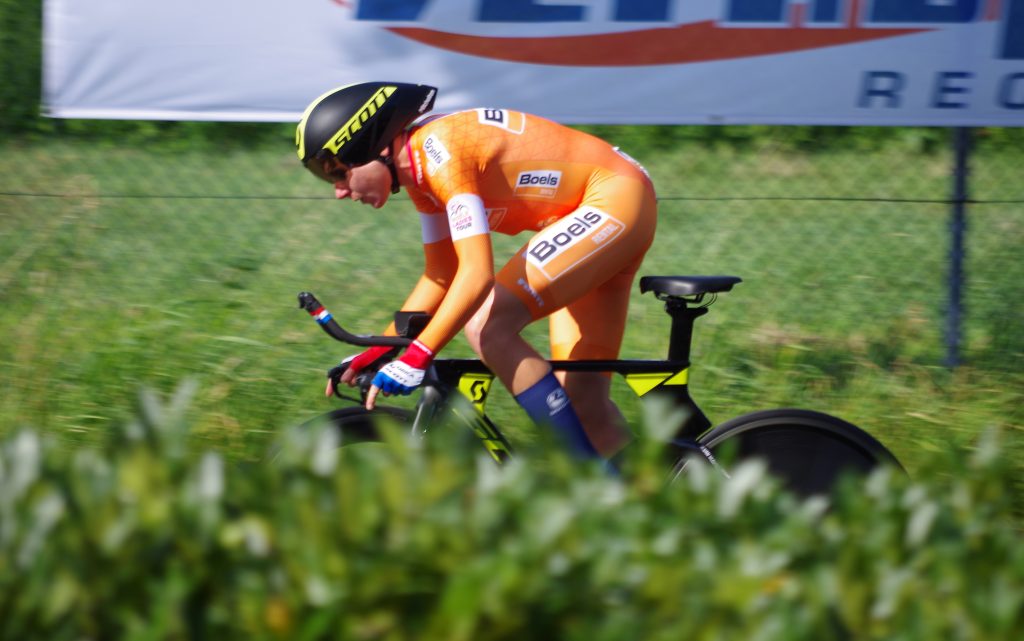 "I tried to convince my coach that for me it's best to race immediately after coming back from altitude. It's probably a bit of a mental thing: I feel like after three weeks of training I'm ready for racing . Normally my coach wanted me to stay at home after altitude and wait for those weeks before the competition, after which, on paper, you'd be at your best. But mentally I quickly feel my eagerness to race. So I've convinced my coach now that for me the best is to race just after the altitude training."
She admits that it might have a mental explanation rather than a physical one: "It's perhaps more in my head than in my legs. On paper you wouldn't get the optimal benefit from altitude in the first 10 days, then you start to get it after that and three weeks later you're on the peak, but also for the next year I've tried to persuade him to have the altitude block really close to the Olympics, even if it's not possible to have it super close."
"If you look at my prologues, for example in the Boels Ladies Tour, usually I come down even the day before the prologue and then smash it. It doesn't even make sense to some people that I do a lot of climbing during my training camps and then I smash it in the prologue, but I feel I'm really ready to suffer, keen to suffer."
Another valid example would be her performances in the time trial national championships, usually just a couple of days after finishing her altitude block with focus on the Giro.
A racer's mindset
Annemiek van Vleuten's first really big victory came in 2011, when she won the Tour of Flanders. Incidentally it was also the last time the iconic Belgian race would finish in Meerbeke, featuring the Kapelmuur and the Bosberg as the key elements of the latter section of the course.
Since that year, De Ronde switched the finish to Oudenaarde, with the Oude Kwaremont and the Paterberg becoming the definining hellingen. Curiously enough, Van Vleuten has won several other races that included the combination Muur + Bosberg, such as this year's Omloop Het Nieuwsblad or 2016's closing stage of the Lotto Belgium Tour. But she has never been able to win Flanders again, despite an amazingly consistent streak of top placings throughout the years.
"I think this one can be explained mainly mentally", is the way she sees it. "I still have to get rid of this feeling: before I would always get dropped on the Kwaremont. So mentally it's not your friend. I had to change that, to think that now I can make a difference on the Kwaremont. Okay, this year I tried, but it was more difficult with my wrist and not being in top shape anymore."
"I don't like when they add super steep or dangerous sections, where some even have to get off their bikes, but the Koppenberg should be in Flanders"
She finds another reason besides the mental aspect. "Another thing is that, if you look at the profile of the Kapelmuur, it's way steeper. The Kwaremont is more for a rider like Chantal Blaak, and the Kapelmuur is more for me. The Paterberg is steep but way too short. When it's comes to the Bosberg it's the fact that's it's really close to the Muur and there I recover really quickly, faster than my competitors. I like the combination of those two."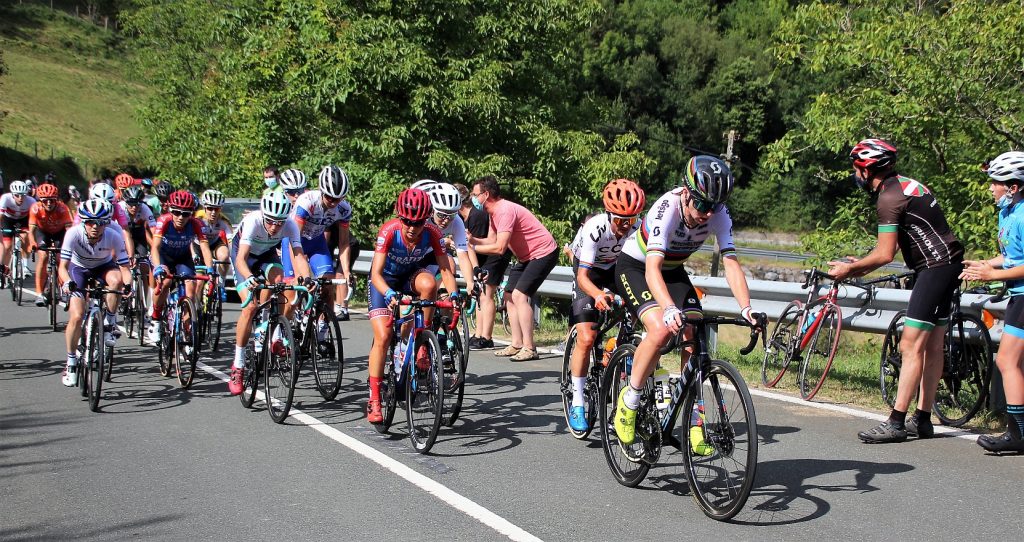 The Tour of Flanders is one of longest, hardest and most prestigious races in the women's calendar, with a relatively long history compared to most others. Yet, it's still arguably missing one key element to finish it up: the Koppenberg. Traditionally a crucial climb in the men's race, which gives a really good idea of who are the strongest of the race, it's never been part of the women's parcours.
And, perhaps surprisingly, Van Vleuten has never ridden it, not even in training rides. She knows well the reputation of this climb, where many times riders had to get off their bikes to tackle its cobbled slopes. "Normally I don't like when they add super steep or dangerous sections, where some even have to get off their bikes, but the Koppenberg should be in Flanders. I would say yes."
Being a rider so strongly driven by performance, who values the process towards a goal at least as much as the goal itself, one can't help wondering how she will deal with setbacks and disappointments that are not directly related to her preparation and, ultimately, to what she can control. For instance, her crash in this year's Giro Rosa, caused by other riders, resulting in a broken wrist and forcing her to leave the race when she was the commanding leader after a series of superb performances in the previous stages.
She speaks about it with mixed feelings: "Right now, if I look back at the Giro, the first thing that comes to my mind is that I couldn't finish it off. But later, if you look for example at pictures of the race in the off season, I can see that we nailed the preparation again, that I was at my absolutely top level. I showed in the stages before that I was the strongest there. That makes me really proud, that we had a goal, that I was in optimal shape for the Giro and on track for the World Championships. We achieved that and that was what I had in control."
While being at the very top of her sport it's obviously great, it can also be sort of a double edged sword for someone who is driven by performance. In a never-ending quest for improving herself, the better she is, the most difficult it becomes for her to keep improving, to find those little details that can still be bettered.
On the other hand one could say that, even if Van Vleuten stopped improving today, she could still win basically every big race in the calendar. But that hunger is still there. "I think with me it's related, because if I feel I'm still improving, then I'm more confident that I can win the race. So if I get to a point when I think I'm not improving anymore it could affect me mentally as well, as I wouldn't believe as much in my own chances to win races."
Racing with the Dream Team, AKA the Dutch selection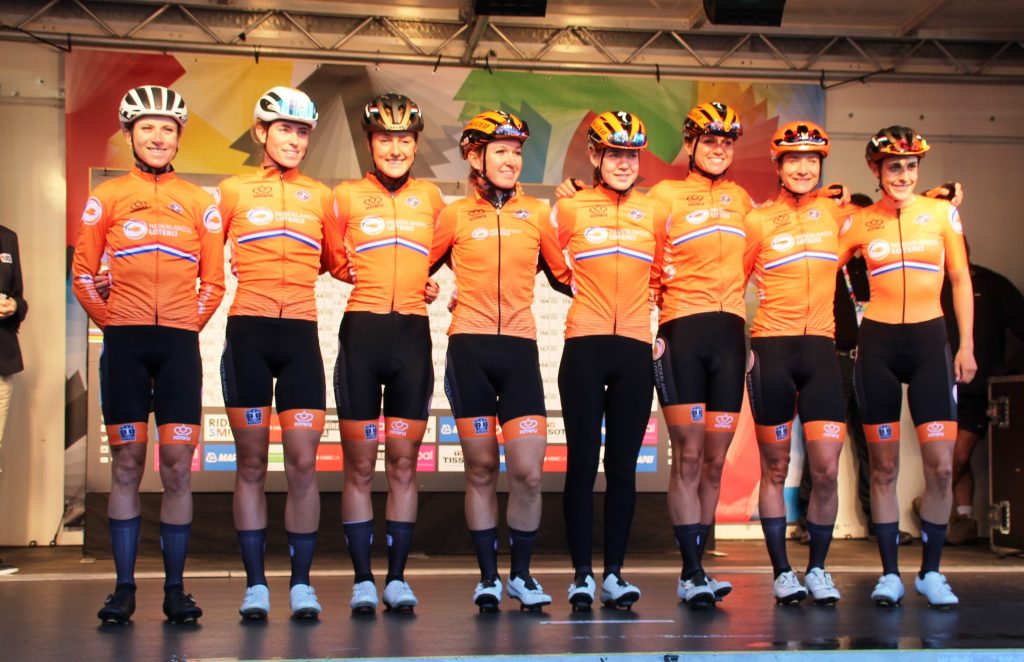 Talking about double edged swords, here's another one. The results of the Dutch selection in recent international races are quite eloquent. Anna van der Breggen won this year's road race in the World Championships, with Van Vleuten herself finishing second. Van der Breggen also got the rainbow jersey in the time trial, with Ellen van Dijk earning bronze. Just some weeks before, Van der Breggen and Van Dijk also topped the podium of the time trial in the European Championships, a couple of days before Van Vleuten won her first European title on the road. And this is only about 2020. Annemiek's rainbow jersey on the road in 2019 was seconded by Van der Breggen's silver medal there. The list goes on…
Such an amazing list of victories obviously creates huge expectations and leads to pressure. Also, it's tricky to manage so many talents in the same team. But it can also make some wins a little bit more special. Van Vleuten recalls how she won the Euro race and how it wasn't even part of the plan, on paper.
"It was the first time I rode the European Championships and I only raced it because I was already there [after racing in Plouay], so that pretty much explains itself", she says, making it clear that the event is not too prestigious among riders – and it's probable the same applies for fans. "For me it doesn't have a big value, but this victory was a bit more special because Anna [van der Breggen] and I rode together in a supporting role for the other girls, to give them the opportunity to win, and that mindset of both of us also made the race more interesting and maybe more open, and that's why it was nicer to watch."
It was indeed an exciting race, attack after attack and with ever-changing race situations. The main value of that race doesn't come for Van Vleuten from the importance of the event itself, but because of the way they raced as a team: "I was really proud myself that we managed to race together and not against each other, which gave a nice feeling as well as opportunities to our teammates. Good for the team spirit."
Oddly enough, she ended up winning the race herself even though she wasn't the designated team leader at all. But that's the beauty of road racing: tactics can led to unexpected outcomes. That's why Van Vleuten eventually found herself she had the responsibility to win. And it wasn't exactly an easy one.
"Personally I had already given so much that I had a really, really hard time – even at some moment I believed that I couldn't finish it off anymore because I was already so tired. So in that way I had to come from really far and was quite special to win it. It also gives you a distinctive jersey with a special story. Also when I attacked, I had said right before to Amy Pieters that I would attack on that small hill to set it up for her and then she should have gone, but she was boxed in or something. That's why I ended up at the front of the race, but I wasn't even thinking about the podium because I was 100% commited to race for the team."
"Racing with the Dutch team gives you a lot of pressure that you have to finish it off"
"I felt a lot of responsibility", she admits. "Racing with the Dutch team gives you a lot of pressure that you have to finish it off. That, in combination with having done already so much work and not being the freshest anymore made me feel a huge relief when I could finish it off. With all those great teammates behind I wasn't the team's leader that day and that's why at times I wasn't working with Elisa [Longo Borghini] and Kasia [Niewiadoma], waiting for some of them to jump and join us. That was maybe annoying, but I wanted to give opportunities to the strong squad of Dutchies. But yes, it gives a lot of pressure to be racing with the Dutch team and being in the front group."
Van Vleuten arrived at the finish with Elisa Longo Borghini, a slower finisher on paper, but also someone who had been extraordinarily strong that day. "I misjudged a bit the moment to start my sprint because there weren't any signs showing the distance to the finish. Not being super explosive I wanted to make sure that I started the sprint before her." In the end, it worked well.
Annemiek van Vleuten and Anna van der Breggen are truly era-defining riders. We have witnessed so many exciting battles between the two, and they have proved they can be great teammates for the other Dutch riders in a race like the European Championships, but that ambition is more difficult to manage when it's about a big goal for both such as the World Championships.
Yet, it's hard to argue against the double gold & silver places they have earned in the latest two editions of the Worlds road race. That's what professional athletes do.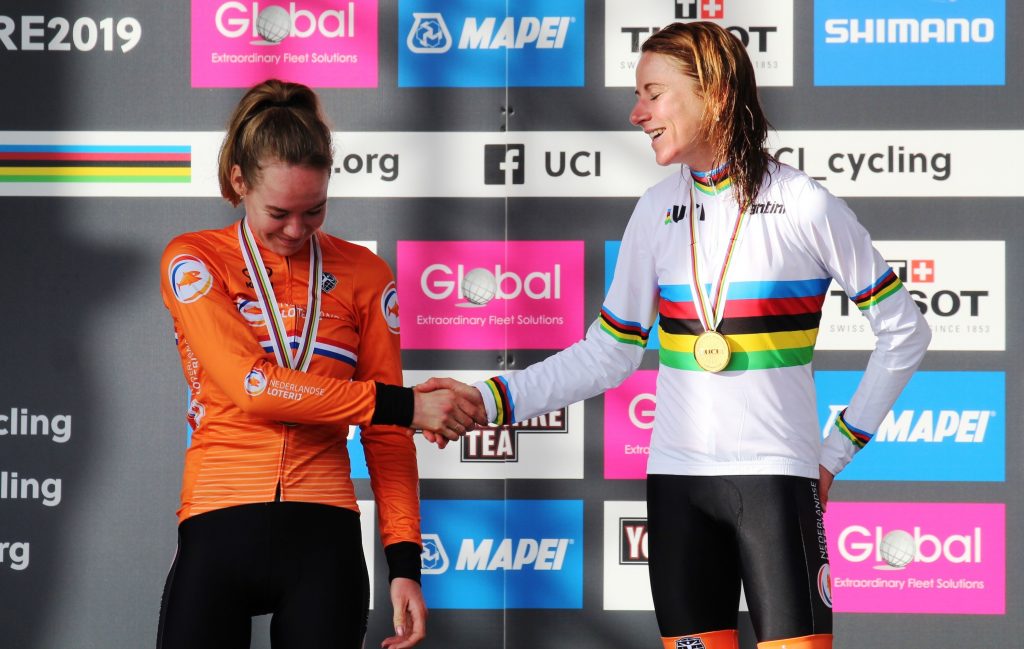 Van Vleuten admits there are drawbacks, too. "I think we both prefer racing with our commercial teams. Having so much quality in one single team doesn't make particularly attractive racing, so in that way it can be a bit frustrating. It would be for sure more interesting if the level was more balanced across the different national teams. But personally I don't feel frustrated about it because I'm never frustrated about things I can't change, that's my way of thinking."
"But something I don't understand that much is not about my teammates, but that other countries aren't doing anything", she notes, addressing a different issue that affects the competition as a whole, rather than their own interests as a team. "It was more obvious in Innsbruck, in 2018, when she [Van der Breggen] was gone and behind no one did anything. And I was thinking: 'this is stupid, come on, do something'. Because that doesn't make it exciting to watch either – if the dominance of the Dutch can already make things less interesting, that's aggravated when the other countries do nothing. I don't understand that."
For the greater good of women's cycling
Van Vleuten is never afraid of having her say on different issues that affect her sport, and one of them has to do with that old fashioned mentality that some organisers show when designing women's races, making them too short and/or too easy more often than not.
Oddly enough, sometimes it's some of the riders themselves who seem to defend that attitude, in a way that could be seen as actively advocating against their own sport, as it helps feeding that old, false cliché that 'women can't cope with hard races'. It makes even less sense now that the overall level of the peloton is higher than ever.
"it's about having a distance that allows to create a difference between riders. you want the organisers to take us seriously. I want respect from the public, that they don't think 'I can also do that'"
Van Vleuten shows with her view that it's not about herself, but about the overall benefit of the sport, and about making a professional competition… well, a proper competition, that is able to show who the strongest athletes are. "Sometimes people think I'm asking for longer or harder races because they suit me, but it's not about that, but about having a distance that in the end allows to create a difference between riders, and you want to give also the message for the organisers to take us seriously. When a spectator sees a 80 kilometres race they can think 'I can also do that', but I want respect from the public, that they think 'wow, those girls are also racing 160 kilometres'."
She continues by giving an example of a race that precisely doesn't suit her skillset, but that it's a good example to follow, in her view. "We don't necessarily need the distances to be too long, but some races like Ronde van Drenthe are pushing the limits [latest edition: 165.7 km]. They know that if they make the race longer, in the end only the strongest riders are in the final, and that's what you want. If you have that race with 80 kilometres, then all the riders are in the final. Ronde van Drenthe is the perfect example: it's one that needs to go for the maximum limit to have the strongest riders in the final, instead of a really big bunch. I love that, they take us seriously and they know they really need that, because otherwise that race doesn't have the gradients to make a difference. It's basically about taking us seriously."
Van Vleuten's philosophy about her sport shows even more clearly when one gets to know the reasons behind changing teams and signing for Movistar for the next two years.
In spite of what was rumoured in the media, the newly formed Jumbo-Visma was never an option: "I didn't have any contact with Jumbo-Visma. They never contacted me. But even if they had done so, I would have preferred not to ride in a Dutch team. I enjoy an environment with different cultures – it's like a driving force for me, to get to know another culture, to get myself a bit out of my comfort zone, it's something energizing for me."
Trek-Segafredo was actually the only serious alternative to Movistar. The reason why she didn't end up joining them is probably not what you'd expect. "When Trek approached me, one of my questions was: 'What do you expect from me to add to the team? Because your team is already full of stars'. In my reply to Ina [Teutenberg, Trek's DS] I also said: 'Let's keep women's cycling interesting and don't put all the good riders in one team'. Otherwise it would be the same as in the World Championships, with all the best riders in one or two teams. When someone dominates so much it doesn't make women's cycling exciting. My heart is also passionate about making women's cycling more interesting, and not making it less interesting."
"Let's keep women's cycling interesting and don't put all the good riders in one team"
This is one of those times when one feels it's better not to add anything and just let her own words tell the whole story.
"They have so much talent already, that they wouldn't be happy if I joined the team. With such an awesome squad they wouldn't need me. Ina said that she really appreciated my way of thinking, that I was caring about keeping women's cycling interesting. Especially as, honestly, I would've really loved to be part of the Trek team, because they have an amazing philosophy, as well as the equality they have achieved between the men's and the women's team. As a team they are amazing, they are racing tactically so smart, so I would've loved to be there. If they didn't have such a strong roster already I would have signed immediately, because then it would be also a challenge, but the way they are now it wouldn't be a challenge anymore."
Van Vleuten is as enthusiastic and committed about improving herself as she is about the development of women's cycling, and particularly with younger riders. That's something she will find in Movistar.
"With Movistar, it also helps that they have young talents. It's a driving force for me to have young talents around who can develop. It gives me extra energy to be able to help, to be a little part of that development. Sometimes it can be really small things that are helpful for the riders. For example, if I say to a young rider 'I'm also suffering like hell today' and then she looks at you like 'oh, she's also suffering, it's not my legs', that gives confidence and they go again with renewed energy. I see a lot of talented girls in Movistar. For sure I want to perform myself too, but I'm really looking forward to working with a young, talented team as well. I definitely see that in Movistar so I really like this challenge."
You can really feel the passion in her voice as well as in her gestures and expressions when she keeps talking about this, as she reveals another of the reasons behind her choice.
This time it's a more personal thing; something more directly related with her own ambitions. "The Canyon bike was also a big factor for me to sign with the team. Having to change your material before an Olympic year is not ideal, it's not what a time triallist likes. But Canyon is a really innovative brand, very committed to developing the bike, with a really good plan for me along with [head of performance] Patxi Vila, starting with tests on the track and then the wind tunnel to get myself faster, and that's something that makes me really excited. On top of that, I had to change my bike anyway, because my current team is changing their bike sponsor. If that wasn't the case it would have been a reason to stay in Mitchelton, as I really like the Scott bike, but having to change anyway I'm super excited to ride the Canyon bike because it's awesome."
It's of course, once again, also about finding new stimulus, new challenges indeed – something that was becoming more and more difficult after five years in Mitchelton-Scott, regardless of how of successful and unforgettable they were.
It may also be sort of a new, refreshing start for the Australian team. "After five years sometimes it's good to change, because the change gives you new energy. Maybe changing the material is not ideal, but I could feel that it was time for me to leave Mitchelton-Scott, to make some space there for other riders to step up. Otherwise it might start to feel like a process of copy/paste. I think it's also really nice for Amanda Spratt to step up into a leader's role, Grace Brown is showing she's already a top rider, so if I was staying there it would be maybe less good for the development of the Australian riders that are there. So I think it's really good for me to move and make some space… and maybe winning with me was not so special anymore", Van Vleuten admits. "With Movistar it would be so cool if I can help a teammate win a race, or if we can win a big stage race together in the future, because they have never done that if I remember correctly. That's a challenge that truly motivates me, and I have the feeling that the other girls are really motivated for that."
Van Vleuten's new teammates won't be completely unknown for her, as she has shared training rides before with some of them. That's the case of Sheyla Gutiérrez, who precisely had stated herself in some interviews, long time ago already, that Annemiek is her role model in cycling.
"I think it's also the right timing for movistar that I join the team, because they've been developing and they're ready to take the next step"
Van Vleuten recalls those shared training rides: "That was really nice, because I could see myself what a big talent she is. I think people underestimates the talent there is in Movistar Team. I think it's also the right timing for them that I join the team, because they've been developing and they're ready to take the next step. Also from the Giro onwards I can see that Movistar are riding together better than before, more organised. It's almost like a different team already, more ready to race together and win races together, I think. Maybe I'm paying more attention now but it's something that puts a huge smile on my face."
"I hope that they realise they can't only win with me, but also by themselves. Sometimes you are so happy to see your teammates winning, and I hope I can be a part of that. They are really close, and Sheyla Gutiérrez has already won big races in the Giro and the classics, so she knows how to do it, but also the other girls can."
Van Vleuten finishes with a remark that puts an amusing expression in her face: "I also have to say that one of the reasons why I joined Movistar is that I feel I have some mediterranean blood somewhere – I feel really at home in the south of Europe, more than in the north. Culturewise I feel more at home with Italian and Spanish mentality: the way of thinking, the way of enjoying life, the sense of humour… although anyway Dutch and Spanish people often get on really well together. In the Rabobank time they really enjoyed having the Spanish riders in the team and that worked really well."
In a way, you could say that Annemiek van Vleuten already has fond memories of Movistar even before joining the team. "In fact, when I was in Sierra Nevada in 2014, Movistar was the first men's team that invited me to train with them. I had a great time, and even when I said that they would have to wait for me uphill that wasn't a problem at all. That open, relaxed mentality was special for me."