BOELS-DOLMANS (DLT)
Chantal Blaak, Eva Buurman, Karol-Ann Canuel, Jolien D´hoore, Amalie Dideriksen, Katie Hall, Annika Langvad, Christine Majerus, Amy Pieters, Skylar Schneider, Jip van den Bos, Anna van der Breggen.
Despite the increasing strength in the rivals, Boels will be once again the team to beat, particularly in 1 day races. The addition of Jolien D'hoore and Katie Hall makes them even stronger for both the sprints and the mountains.
MITCHELTON –SCOTT (MTS)
Jessica Allen, Grace Brown, Gracie Elvin, Lucy Kennedy, Alexandra Manly, Sarah Roy, Amanda Spratt, Moniek Tenniglo, Annemiek van Vleuten, Georgia Williams.
The Australian team has to continue their top performances of 2018, and its main goal starts in the classics, where Amanda Spratt shone last season. Having dominated the biggest stage races of the calendar, they know how to play their cards to perfection with two of the best riders in the world: Annemiek van Vleuten and the earlier mentioned Spratt. Interesting to see Martin Vestby's trademark (new D.S.) after Gene Bates paved the way for success in previous seasons.
TEAM SUNWEB (SUN)
Susanne Andersen, Lucinda Brand, Janneke Ensing, Pfeiffer Georgi, Leah Kirchmann, Juliette Labous, Liane Lippert, Floortje Mackaij, Pernille Mathiesen, Coryn Rivera, Julia Soek.
Will the 2nd ranked Dutch team miss Ellen van Dijk as much as most of us think? Probably, despite the great additions of the experienced  Janneke Ensing and the promising sprinting phenomenon Susanne Andersen. A combination of mature talent like Lucinda Brand (who will probably become the team leader and the rider for the stage races) and some of the best multi-talented young riders in the peloton.
CCC-LIV (CCC)
Valerie Demey, Jeanne Korevaar, Evy Kuijpers, Marta Lach, Riejanne Markus, Ashleigh Moolman-Pasio, Pauliena Rooijakkers, Agnieszka Skalniak, Sabrina Stultiens, Inge van der Heijden, Marianne Vos.
The duet Moolman-Vos will hopefully display some of the best races of the season. Similarly to Van Vleuten-Spratt, the presence in the same team of 2 of the best riders in the world is often a guarantee of exciting racing. In addition, Korevaar, Markus or Stultiens (if she finally leaves the nightmare of her concussion behind) showed their growing talent many times last year.
CANYON-SRAM (CSR)
Alena Amialiusik, Alice Barnes, Hannah Barnes, Elena Cecchini, Tiffany Cromwell, Tanja Erath, Pauline Ferrand- Prévot, Rotem Gafinovitz, Ella Harris, Lisa Klein, Hannah Ludwig, Kasia Niewiadoma, Christa Riffel, Alexis Ryan, Omer Shapira.
As we mentioned above with Van Dijk and Sunweb, Canyon will likely feel a bit "orphan" without Trixi Worrack (Trek- Segafredo), her "spiritual leader" for so many years. The German team is the squad with less sign-ins and sign-outs, so its roster remains well-known. A very well-balanced team (no coincidence they are the last TTT World Champions) which will try to make a difference in the big races and forget a slightly disappointing 2018 (particularly for Kasia Niewiadoma despite her great Binda victory).
WNT-ROTOR (WNT)
Laura Asencio, Anna Badegruber, Lisa Brennauer, Kathrin Hammes, Clara Koppenburg, Claudia Koster, Erica Magnaldi, Gabrielle Pilote-Fortin, Sarah Rijkes, Ane Santesteban, Aafke Soet, Lean Lin Teutenberg, Lara Vieceli, Kirsten Wild.
Beware of this team. A 14 rider roster with potential to win in any terrain: a strong combination of climbers, sprinters and power horses. Together with Trek-Segafredo, the squad can become a reference as the season goes by and the riders get to know each other better.
TREK-SEGAFREDO
Audrey Cordon-Ragot, Lauretta Hanson, Lizzie Deignan-Armitstead, Lotta Lepistö, Elisa Longo-Borghini, Jolanda Neff, Ellen Noble, Letizia Paternoster, Anna Plichta, Ellen van Dijk, Abi Van Twisk, Tayler Wiles, Ruth Winder, Trixi Worrack.
The super-team everyone is talking about has already won with 3 different riders. After a more than convincing start of the season, the classics and the WWT will be the real litmus test for the team directed by two of the best sprinters and tacticians in the history of the sport: Giorgia Bronzini and Ina-Yoko Teutenberg
MOVISTAR TEAM
Aude Biannic, Roxane Fournier, Alicia González, Sheyla Gutiérrez, Malgorzta Jasinska, Lorena Llamas, Eider Merino, Lourdes Oyarbide, Paula Patiño, Gloria Rodríguez, Alba Teruel.
The additions of Sheyla Gutiérrez (who seems to be fully recovered after her horrible crash while training last year) and Roxane Fournier increase the quality and versatility of the Spanish team who everyone was talking about in 2018. Protagonists in many of the top- races and well-known for their brave approach to racing, let's hope the team keeps on improving: a big win is at their reach. Time will tell.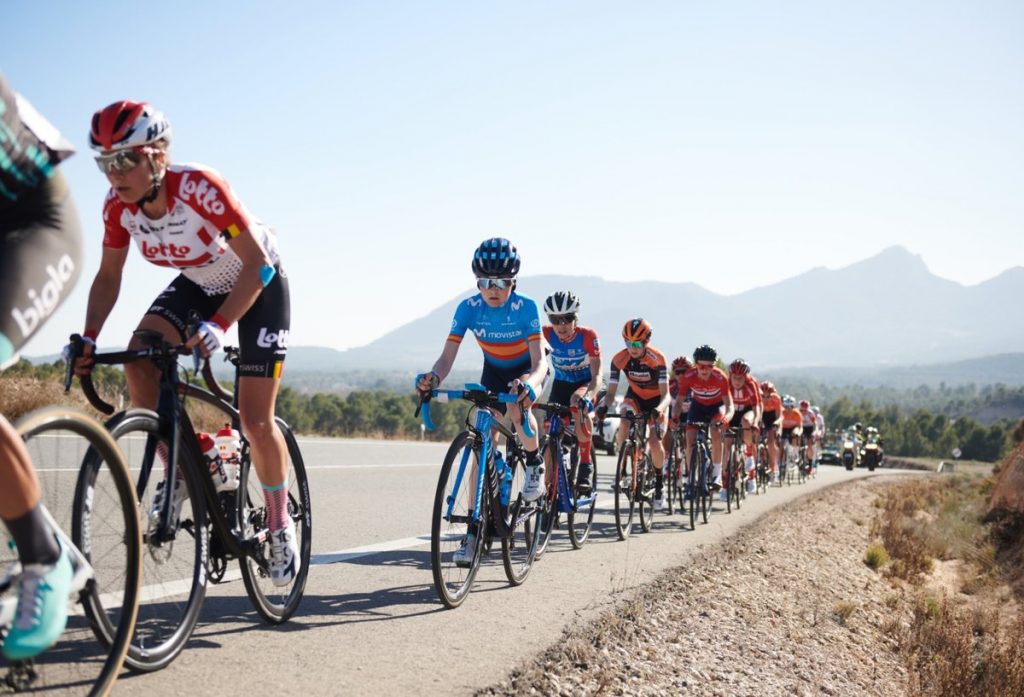 TEAM VIRTU CYCLING (TVC)
Katrine Aalerud, Marta Bastianelli, Sofia Bertizzolo, Barbara Guarischi, Louise Norman Hansen, Anouska Koster, Birgitte Krogsgaard, Mieke Kröger, Christina Siggaard, Emilie Moberg, Rachel Neylan, Kasia Pawlowska, Sara Penton, Trine Schmidt.
After a poor 2018, the team directed by Carmen Small aims higher with the signings of European Champion Marta Bastianelli, Dutch all-rounder Anouska Koster and the best young rider of 2018: Italian Sofia Bertizzolo.
BTC CITY LJUBLJANA (BTC)
Maaike Boogaard, Urska Bravec, Eugenia Bujak, Anastasia Chursina, Anja Longyka, Hanna Nilsson, Ursa Pintar, Mia Radotic, Rossella Ratto, Maja Savic, Hayley Simmonds, Monique van de Ree, Urska Zigart.
Despite not getting many wins along the season, the Slovenian team is always regular at the front of the races with Eugenia Bujak. New faces are Rossella Ratto, Hayley Simmonds and Monique van de Ree, who have to increase the team power exponentially.
ALÉ-CIPOLLINI (ALE)
Giorgia Bariani, Jelena Eric, Chloe Hosking, Romy Kasper, Reum Na Ah, Soraya Paladin, Diana Peñuela, Nadia Quagliotto, Jessica Raimondi, Karlijn Swinkels, Anna Trevisi, Marjolein van't Geloof, Eri Yonamine.
Both Chloe Hosking and Soraya Paladin become the leaders of the Italian squad, who has lost some of their main assets. Jelena Eric has had remarkable sparks of quality, and 2019 can be her break-through season. We know that Chloe Hosking is one of the fastest sprinters in the world, but perhaps she will miss some experienced riders who help her in the final of the races. Soraya Paladin keeps on growing , and her 2nd position in the Setmana Ciclista Valenciana is the best example of her class and tactical skills. Let's not be surprised if she wins one of the big races this year.
PARKHOTEL VALKENBURG (PHV)
Loes Adegges, Nina Buysman, Sophie de Boer, Belle de Gast, Anne de Ruiter, Sofie De Vuyst, Ann-Sophie Duyck, Roxane Knetemann, Femke Markus, Fleur Nagengast, Marit Raaijmakers, Sylvie Swinkels, Mejke Uiterwijk Winkel, Janine van der Meer, Esther van Veen, Demi Vollering, Lorena Wiebes.
A team around sprinting sensation Lorena Wiebes and much more. One of the most remarkable schools of talent in women's cycling, the additions of the experienced Ann-Sophie Duyck, Roxane Knetemann and Sofie de Vuyst give much more consistency to the team. Their pink and green colours will have plenty of chances to shine in 2019.
FDJ NOUVELLE – AQUITAINE FUTUROSCOPE (FDJ)
Charlotte Becker, Charlotte Bravard, Eugénie Duval, Emilia Fahlin, Shara Gillow, Maëlle Grossetete Victorie Guilman, Lauren Kitchen, Marie Le Net, Evita Muzic, Gréta Richioud, Jade Wiel.
The signing of Charlotte Becker and Swedish champ Emilia Fahlin can become a huge boost this season, and the team has got the beautiful mission of developing the best French talent out there: Jade Wiel and Marie le Net.
BIGLA
Martina Alzini, Elizabeth Banks, Elise Chabbey, Nicole Hanselmann, Mikayla Harvey, Julie Leth, Emma Norsgaard, Nikola Nosková, Maria Vittoria Sperotto, Leah Thomas, Cecilie Uttrup Ludwig, Sophie Wright.
The same as happened with Alé-Cipollini, Bigla has lost several very important riders, but the additions of Julie Leth and Leah Thomas can be a guarantee of consistency. The leader of the team Cecilie Uttrup Ludwig will be also surrounded by the freshness of Nikola Nosková and Sophie Wright. Emma Noorsgaard is also a huge talent, still very young, but the next best sprinter of the peloton.
ASTANA WOMEN'S TEAM (ASA)
Marie-Soleil Blais, Amiliva Iskakova, Marina Kurnossova, Blanca Moreno, Svletana Pachshenko, Elena Pirrone, Faina Potapova, Jeidy Pradera, Carolina Rodríguez, Natalya Saifutdinova, Lizbeth Salazar, Arlenis Sierra, Olga Shekel
Arlenis Sierra surprised everyone 2 years ago, and in 2019, in the Aussie summer, she won solo from a breakaway in a tremendously unexpected move. She is no doubt the rider to watch, together with Elena Pirrone, part of an exciting generation of Italian youngsters. A generation which has to consolidate and make solid moves towards victories, otherwise they will be forever labelled as "the Italian promises".
DROPS (DRP)
Grace Anderson, Elinor Barker, Megan Barker, Anna Christian, Eleanor Dickinson, Elizabeth Holden, Manon Lloyd, Abby-Mae Parkinson, Hannah Payton, Lucy Shaw.
After losing the support of Trek, the British team had to make a desperate campaign not to disappear, and ultimately the team managed to stay afloat. Great news that classy riders like Elinor Barker or Abby-Mae Parkinson can continue racing and showing their talent.
BEPINK (BPK)
Rachele Barbieri, Vania Canvelli, Tatiana Guderzo, Silvia Magri, Tereza Medvedova, Francesca Pataro, Chiara Perini, Katia Ragusa, Gloria Scarsi, Nicole Steigenga, Silvia Valsecchi, Silvia Zanardi.
More than interesting the signings of ex-World Champion Tatiana Guderzo and track-star Rachele Barbieri. On the other hand, breakaway princess Nicole Steigenga will be the rider to watch whenever there is quietness in the peloton.
HITEC PRODUCTS- BIRK SPORT (HPU)
Pernille Feldmann, Grace Garner, Lucy Garner, Ingvild Gaskjenn, Vita Heine, Ingrid Lorvik, Analie Lutro, Julie Solvang, Chanella Stougje, Marta Tagliaferro, Lonneke Uneken.
The team of Karl Lima is another combination of youth and experience. Unfortunately, those seasons when the Norwegian team had some of the best riders in the world are long gone. However, the Garner sisters can find a more relaxed atmosphere than in her previous team (the extinct Wiggle) and there are several new riders to follow. Both Vita Heine and Marta Tagliaferro are solid bases to build a more than interesting development team.
LOTTO SOUDAL LADIES (LSL)
Danique Braam, Alana Castrique, Dani Christmas, Demi de Jong, Emke De Keyser, Marie Dessart, Annelies Dom, Chantal Hoffmann, Lotte Kopecky, Puck Monen, Thi That Nguyen, Julie Roelandts, Julie Van de Velde, Kelly Van den Steen, Cameron Vandenbroucke, Fenna Vanhoutte
Let's get used to writing down and seeing this name:  Thi That Nguyen (Vietnam). She is very fast and took everyone by total surprise last year. Together with Lotte Kopecky, who has already won this season, they can become a very interesting force at the final of races. Dani Christmas is one to watch as well in the Belgian squad.
VALCAR-CYLANCE (VAL)
Alice Arzuffi, Elisa Balsamo, Marta Cavalli, Maria Giulia Confalonieri, Chiara Consonni, Vittoria Guazzini, Barbara Malcotti, Dalia Muccioli, Asja Paladin, Silvia Persico, Silvia Pollicini, Ilaria Sanguineti, Miriam Vece, Alessia Vigilia.
Valcar-Cylance gathers most of the "Italian promises" which have been shining in junior races in the last years. At first sight, the team is very young and misses a good doses of maturity, but the quality of the riders and the factor that they know one another very well from the national team can make them win races. Arzuffi, after a great cyclocross season, can leave her print in stage races, and Confalonieri has often proved that she is getting closer and closer to the top sprinters.
TEAM TIBCO – SILICON VALLEY BANK (TIB)
Lex Albrecht, Nicolle Bruderer, Brodie Chapman, Alice Cobb, Ingrid Drexel, Megan Guarnier, Alison Jackson, Nina Kessler, Sharlotte Lucas, Shanon Malseed, Emily Newsom, Kendall Ryan, Rozanne Slik, Lauren Stephens.
Retired last year, Megan Guarnier is the name that stands-out coming from Tibco-Silicon Valley Bank 2019.
It is still unknown which races will she take part in if she takes part in any. The signings of Nina Kessler, Rozanne Slik and Lauren Stephens (making a Euro calendar in the last seasons) shows a deeper focus in the European racing, so let's expect the team to be more present in the most important races of the old continent.