For the 1st time in the short history of cyclocross, the iconic Cauberg is hosting the World Championships, and the women's races in particular are going to be, on paper, thrilling. All season through we have witnessed a lot of candidates for the win both in elite and under 23 categories, so we are not expecting less for the biggest event in the CX calendar.
THE COURSE
The Valkenburg circuit has undergone quite a few changes from the last World Cup held last year.
The first part of the course is the one who has changed the most, whereas the central one remains very similar.
The final part has added few more technical sections as well. As riders point out, there are more short climbs, making it a "Namur-ish" course. It seems to be a good mix of punchy climbs, demanding running sections and slippery downhills (if it rains or has recently rained the difficulty increases a big deal, but this is no news for cyclocross circuits: most of them get much more technical when rainy).
The weather forecast: rain during the whole week prior to the Championships. Yes, it is going to be EXCITING.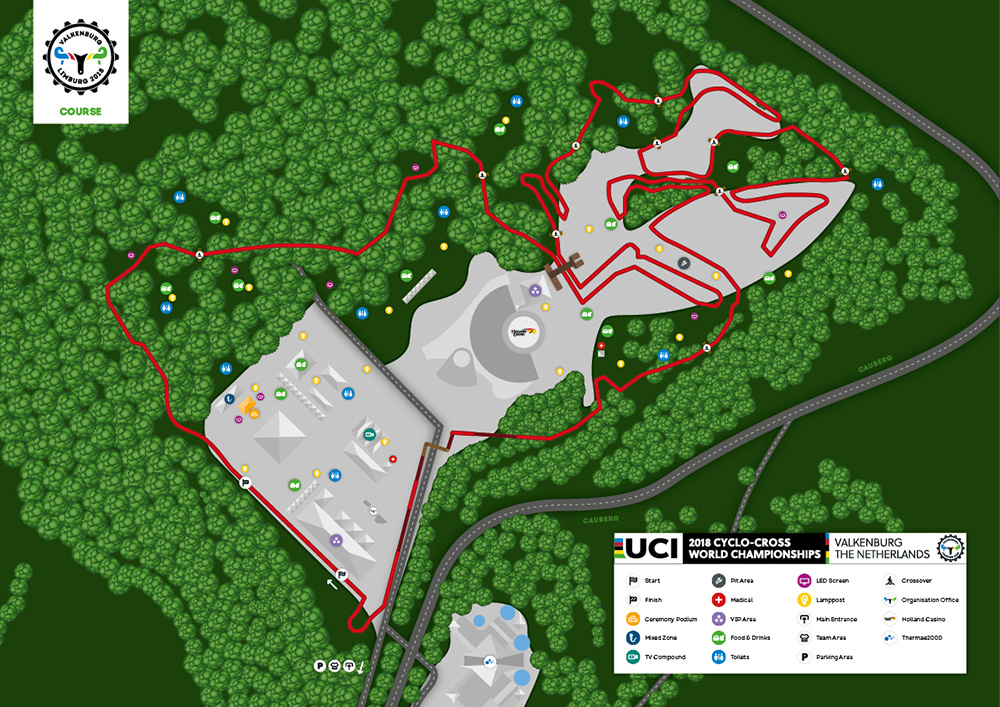 THE CANDIDATES. ELITE RACE
Candidate number one is Belgian Sanne Cant. She has got the best campaign, in number and quality of victories. She has won in all types of circuits (exceptions like Koppenbergcross or Namur, pure climbing venues which she has never mastered) and when she is in contention she is the only rider who looks invincible this season.
And just one step below Sanne is where the fun begins: the quantity of possible rainbow-wearers is incredibly high. And unpredictable. Let's pick 10, noticing that I could have picked 15 as well.
In theory, it may be a suitable course for experienced mountain-bikers like Eva Lechner or Katerina Nash. Both know what is takes to win World Cup races or take a medal at Worlds. The Italian seems to have a better form than the Czec, but the latter is one of those riders who knows how to pull that extra gear in the big events. Unfortunately Jolanda Neff will not be at the startline. She broke her collarbone last Sunday at Hoogerheide, but she could have been a clear option for the medals.
Pauline Ferrand-Prévot: the ex-World Champion adapts like no other to any terrain, she is in great shape and she seems to have taken back her hunger for victories. She could very well wear her 2nd rainbows in the discipline. Whether her crash last Sunday (with her forever rival Jolanda Neff) will affect her performance remains to be seen. She has stated she feels perfectly well though. She will start on the 3rd row, so she has to make an extra effort to get to the head of the race as soon as possible. She has proved in several occasions along the season that she can overcome riders really fast.
Katie Compton: the winner in Nommay showed her extraordinary consistency in the French event, and all along the season she has had more than remarkable performances. We have the feeling this is being one of her best seasons ever, and that is very difficult to achieve in modern CX, where the level increases year after year.
Helen Wyman: can the British champion improve her best Worlds' performance (bronze medal in 2014) with a win in Valkenburg? At her 36, she is proving – just like Compton – that you can perform extremely well after 35, and she is riding one of her best seasons ever. Rainbow bands would be so honoured on the shoulders of this legendary ambassador of the sport.
Lucinda Brand: her second CX season is being the confirmation of what we all predicted: Lucinda would become a top CX rider in no time. Valkenburg is not that really suited for her roadie strengths, but for sure riding in home-soil will be a boost to aim for a medal.
Marianne Vos: in which form the seven time World Champion will tackle her home-soil race? That is the million-euro question. We know there is no mission impossible for the most laureate biker of all time, but her weak season (a persistent cold has kept her out of the podium places this season and only at Hoogerheide she showed clear signs of recovery) cannot be taken as the ideal preparation for the Limburg venue. Her grid position will also be a handicap: she starts on the 3rd row. However, her starts are always clean and speedy, so let's expect (like Ferrand-Prévot) she can make it to the front relatively quickly.
Katie Keough: the U.S. rider has had a very consistent season both in Europe and abroad. Second in the World Cup standings after Sanne Cant, she has always been there despite not winning any of the big races. Many second places (and a certain feeling of "grey performances") could be quickly forgotten if she wins a medal on Saturday.
Alice Maria Arzuffi: no doubt she has been the elite break-through rider of 2017-2018. With very strong performances all through the season and a first top-win in her career, the Italian adapts well to any parcours. She shows the speed of a road rider and the climbing skills of a tiny rider.
Elite startlist:
UNDER-23
Evie Richards: beware of the British in a hilly and slippery course. She bested all the elite field in Namur, shone in Hoogerheide to finish third (and notice she took the fastest lap of the race) and she wants to be World Champion again. She is fit and Valkenburg suits her. She is the favourite number one just as Sanne Cant is the favourite number one amongst the elite contenders.
Ciara Teocchi: Just as Evie, her appearances on the scene have been scarce, but the European champion will surely be extra-motivated to wear the rainbows. She will be a fierce contender.
Laura Verdonschot: the Belgian has had a difficult season, with an intestinal virus preventing her from performing at her best level. She has combined strong performances with disappointing ones, but we know she has an agressive approach to racing. She will be strongly motivated and hungry to wear those rainbows for the first time in her career.
Ceylin del Carmen Alvarado: the Dutch has been one of the break-through riders of the CX scene. She has won races against elite races and she has been in top-10 places amongst the best. At Europeans, she crashed when she was riding one of the strongest races of her season. She looked very strong at Hoogerheide, so let's expect a fine performance again for her on Saturday.
Fleur Nagengast: crowned best U-23 World Cup rider, the Dutch has always been consistent in her season.
Inge van der Heijden: the Dutch national champion surprised everyone to take the win, and from that race on her performances are much more consistent. Her fitness and confidence seem to be on a high, so nobody would be really surprised if she wins Worlds.
Under 23 startlist:
SPANISH ARMY: READY TO FIGHT
Aida Nuño: the Spanish champion starts in Valkenburg having competed very little abroad this season, but her form has been increasing all through the campaign. At the Spanish championships she showed a great display of technical skills, power and intelligence to take her 6th national title in an epic, tremendously muddy course. She will start in the 4th row though.
Lucía González: she won the Spanish Cup in a tight battle against Aida Nuño and a couple of crashes prevented her from challenging Aida's reign at Nationals. Nevertheless, Lucía has made a special effort to ride internationally this season, and her approach has proved she is on the good path: at Hoogerheide she finished 16th, her best result in a World Cup race. She will start in the 3rd row.
Olatz Odriozola: 3rd in the National Championships. Having had a difficult and short season (she missed half of it), Olatz faces her 3rd international race trying to take the best sensations from Valkenburg.
Luisa Ibarrola and Irene Trabazo (U-23): both youngsters are not alien to the international grids, and they are far from being scared of the big events. Luisa (U-23 Spanish champion) combines MTB with CX, so a parcours like Saturday's can adapt really well to her skills. However, her 3rd row start can be a huge obstacle. Even more complicated for Irene, who starts in the last row.
WOMEN RACES PROGRAMME

P.S.: we will attend the races during the weekend, and we cannot wait!
As World Championships are always well- covered by live TV, media and the like, expect some backstage pics, updates and unorthodox stuff from us.
Muddy Valkenburg awaits and our boots are ready!
Follow us: @CiclismoFem & @babelia1