Words: Yolanda Álvarez, except 8th paragraph (below podium pic) by Saúl Miguel
Photos: Saúl Miguel, Fabienne Amant (1st selfie) and Annemiek van Vleuten (2nd selfie)
Talking about the "backstage" of races we attend is one of CiclismoFem's favourite hobbies.
Dutch national championships in Montferland was the 1st trip abroad we've had as both fans and specialists on women's cycling. Both Saúl and I started the trip knowing those days would be unforgettable, as what could be better than seeing our dear Dutch riders in action, meeting some new people plus sightseeing around the country where bikes are part of everyone's daily life?
WEDNESDAY: TIME TRIAL
Wednesday starts with Peter van der Veen picking us up from the hotel where we were staying, just a few kilometres away from the races. The first shock had already been the previous day, witnessing the impressively natural logistics around the bike: living in a country (Spain) where bikers are most of the time a nuisance, the sight is unbelievable at first. Hard to describe with words for a bicycle lover. Simply: another universe.
With the sight of friendly corn and straight fields of green we head to the start to attend the ITT, where emotions would come … in buckets. We come in time to see the young riders (both men and women) in action, but unfortunately not many riders we know of. Most likely the ones we witness on the podium will be the ones shaping cycling in the next decade or so. By the way, the one in charge of the female upcoming stars is Loes Gunnewijk, she is around the start and we talk to her: as friendly as we had always seen her on interviews, as a rider, a coach or a tv commentator. Another extremely pleasant sight is Koos Moerenhout, former RaboLiv DS and one of the characters we have been following since we remember. He knows us well for the Emakumeen Bira's chats along the years, and we gladly hear from him that returning to women's cycling is not a closed door at all. Temperature is rising, both literally and metaphorically!
Meanwhile, some of the ones colouring the sport nowadays are warming up with just a purpose in mind: to be the fastest they are capable of, to push themselves to the limit in a world-class competition where, crazy enough, the best 3 time-triallists worldwide are Dutch: Ellen van Dijk, Anna van der Breggen and Annemiek van Vleuten.
Long before the start of the first elite rider, one of the highlights of the week: we meet Ronny, Fabienne and Dirk, aka Annemiek's fan club in Belgium and around the world. It must be pointed out that the other fan club is Spanish and both Saúl and I are part of it ;) The meeting is so fluid and entertaining that it seems we knew each other for years. Passion makes us come together, and we are some passionate supporters indeed! Emotions increase even more when Fabienne tells us than Ria (Annemiek's mum) and one of her brothers are coming to join us!!
In the meantime, Peter introduces us to Aschwin Kruders, one of the biggest names in Dutch women's cycling. And Ria comes, all smiles, beautiful English, such a good vibe! Van Vleuten's family and fan club together, that is a hell of an extra-energy load for the star of Wageningen, starting the last of the day with number 1 on her back!
Riders begin to hit the ramp with the usual tension of the discipline plus 30º. Quite a good number of spectators but still not what I'd have hoped for, but I would tackle this subject at the end of this article. We have the chance to talk to Ceylin del Carmen Alvarado, the cyclocross upcoming star who takes nationals and summer road racing as a good base for the cx season. It is a weird view to see in TT outfit, that is for sure. There is also "adopted Basque" Roos Hogeboom, the rider from Bizkaia-Durango who we know so well from riding Spanish races. And all the favourites are off and emotions are high, as we expect an extremely close battle for the golden medal. From the start, Annemiek is the fastest, with Anna being the slowest of the 3 and Ellen flying from half of the course onwards! At the finish, Annemiek wins with only 4 seconds on Ellen, who later on tells us: «I crossed the line with a flat-tyre, anyway it's not an excuse. I don't think it affected the final result» Pure honesty from the rider from Harmelen.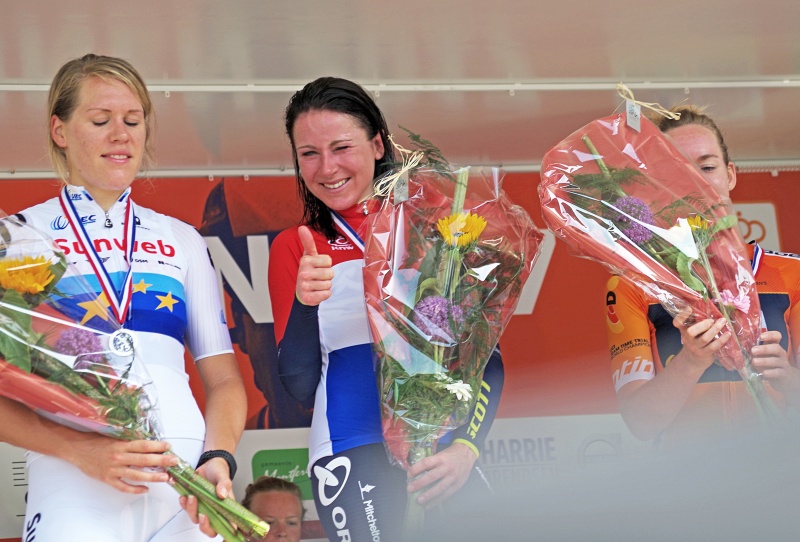 Perhaps the craziest and most memorable moment of the day happened when I (Saúl) went to the uphill finish, some 150 metres before the line, together with Dirk and Fabienne. Ronny went to a different part of the circuit, 5 km from the finish, so he could give us an additional intermediate time of the favourites as they passed. We knew it was going to be a close call, so when Annemiek finished her ride and the speaker announced she was the winner, we went absolutely crazy with our celebrations. So crazy that the people around were staring at us as if we had become totally insane. One of the guys was filming us with his phone… It was one of those sudden bursts of raw, genuine emotion that it's impossible to forget. What a feeling!
Can you imagine what it is to be part of the winner's fan club, family and friends? I could not before Wednesday the 21st of June, where summer came just some hours before the official on the fields of Gelderland. Smiles, laughter, shake-fives, spreading the huge banner which follows Annemiek in many of the Spring races … sheer joy!!! On the contrary, both Ellen and Anna did not seem particularly content with their performances. For both of them, not wearing the coveted jersey is a disappointment.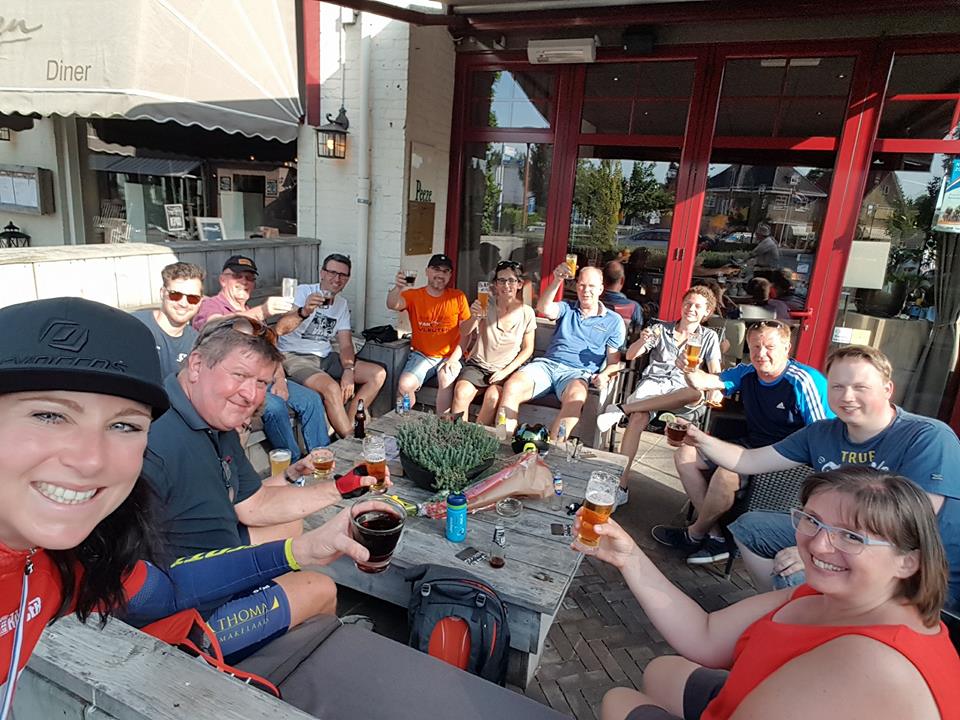 And then came the cherry of the cake of an extraordinary journey: the post-race celebration with the winner. Three rounds of beer, cokes and plenty, plenty of fun. We meet the man who introduced Annemiek to cycling: Leo Slütter, father of her best friend Kim, whom she knows since she was 3. More relatives and, just for your info: the happy winner of the day took a Coca-Cola plus her recovery drink which was filled with water by the bar tender. I am shocked that just a few fans ask for a pic or some words with her while we are there. It is evident by then, to my surprise, that women's cycling is small. Way too small even for The Netherlands. Another happy meeting is Henk Vos, Marianne's dad, who comes to congratulate Annemiek and who tells me Marianne will attend the race on Saturday as part of her WM3 team. Please, don't wake me up from my dream: Henk himself is taking a pic of all of us around the table! Unreal.
On a side note, we see Aafke Soet passing by with her parents and we yell a loud «AAAAFKEEE!!!» in case she does not notice us at the table. Impossible not to, she tells us about her ITT performance (she is not content with it) and that probably gives her an extra motivation to be the most combative rider the following Saturday. We will have the chance to see her and her friendly parents again on the road race.
Nearly the finish of the journey, we spot Maaike Boogaard, the promising 18 year old rider who is chilling with a friend in a table not far from ours. Being a follower of CiclismoFem, we have the perfect excuse to introduce ourselves, to which she responds enthusiastically. «May I take a picture with you?» she utters .That was hilarious, we are the ones to be honoured here!!! Such a nice rider, that is a highlight of the day when Peter joins the party and meets Maaike too. Women's cycling spreading its wings. The partying bunch departs and see all you on Saturday, except for Ronny, who unfortunately will not be able to attend the road race.
SATURDAY: THE ROAD RACE
Saturday started with clouds and an extremely pleasant 20 degrees after the heat-wave from the previous days. On a side-note, the day before we rent 2 classic conmuted bikes: a Gazelle and a Giant. It feels so weird at the beginning: the verticality of the body position, the weight, the huge saddle, the gears, the pedalling … but, hey: we have a bell! That is a plus! Riding alongside some gravel paths, cycle-lines and sort of cobbles never felt so safe. The funniest ride comes when we spot Danny Stam in his Boels-Dolmans car, and we start a fast, downhill chase on cobbles … having watched epic rides on cobbles all these years, we want to leave our own mark in our visit to Gelderland: we make it, just to see how Danny leaves Boels car and heads to the race headquarters.
Have you heard of Gert-jan Warrink? His pictures are simply great, and he is one of those women's cycling fans we know (twitter bound, of course) for years. We spend very good moments with him during the road race. Another person I strongly wanted to meet is the man behind Swabo Ladies Team, the tweeterer who has helped us so much lately to follow races. His name is Stefan van Klink, and he is also the team's trainer. Keep up the good work, Stefan, and thanks A LOT! On my walking around to spot teams' buses, I come across Parkhotel's, with Roxanne Knetemann and CX star Sophie de Boer part of the team meeting. I also have the chance to talk to Amy Pieters, very nice chat and a big favourite for the day: the course suits her perfectly. In fact, she is 4th later on, the 1st of the bunch sprint after the 3 breakaway medals.
My pre-race "hunting of riders" finishes with the most expected one from a personal point of view: Marianne Vos. I know from Wednesday where WM3 buses are, so there I go wearing my Vos fan-girl T-shirt. I talk briefly to Riejanne Markus and Anouska Koster, and a bit embarrassing moment happens when Her Majesty arrives: I suddenly turn to her and leave Anouska sort of talking alone …oooppps, I feel a bit bad afterwards! Lucky me I'll have the chance to fix the unpolite gesture later on. Me: «Since you are not coming to ride to Spain, I have to come to NL to see you!»  Marianne: «Ohh, and unfortunately I am not riding!» she answers with a broad smile.
The conversation goes around her recovery (going very well), women's cycling in her country, past and future races for her and WM3… a funny one is the memory of Women's Tour first stage, when the whole peloton got a weird amnesia attack and thought Kasia was not one of the best riders in the world. The world's best cyclist looks fit. Very fit. Her display of power and ambition at Gooik-Geraardsbergen- Gooik was epic. That race still gives me goosebumps.
But let's go back to the start line, because another memorable meeting is going to take place just while the teams' presentation: Marian van Vleuten, Annemiek's sister. Oh, happy days. We instantly connect, and we check she is nearly as fit as her sister! She rides a daily 25k to work (she is a teacher) and she goes to the gym regularly. In fact, she shows us some pics where she is practising her flexibility and, oh man, that is impressive! The international fan club plus Annemiek's relatives stand by the side of the circuit cheering on Annemiek along several laps, and then we head to the finish to see the last hour and a half on the big screen. The breakaway has got it, game over for the peloton: Chantal Blaak, Anouska Koster and Floortje Mackaij are the best of the day.
Once the podium ceremony finishes, we head to the town centre for one final beer(s), another great gathering of Annemiek's relatives, friends and neighbours. Oh, and Pat Ryan, Orica's mechanic and a fundamental part of her ITT success these nationals. I sit next to Ria because I want to grasp as many moments as possible with this extraordinary lady: chatty, funny, FULL OF LIFE. I will never forget her energy. It is one that remains forever. No kidding.
While we are drinking and chatting, we see Anouska coming with her silver medal to a WM3 bus full of visitors (later on I read that the team had an sponsors meeting). Long time afterwards, WM3 crew leave and Marianne is around about to leave as well. Time for a picture with her and a final chat. Anouska is there, and also Yara Kastelijn. The icing on the cake: Annemiek comes and says hi to her good friend, joining us. Pinch me. Tell me I am not dreaming. «Yes, I have seen things you people wouldn't  believe».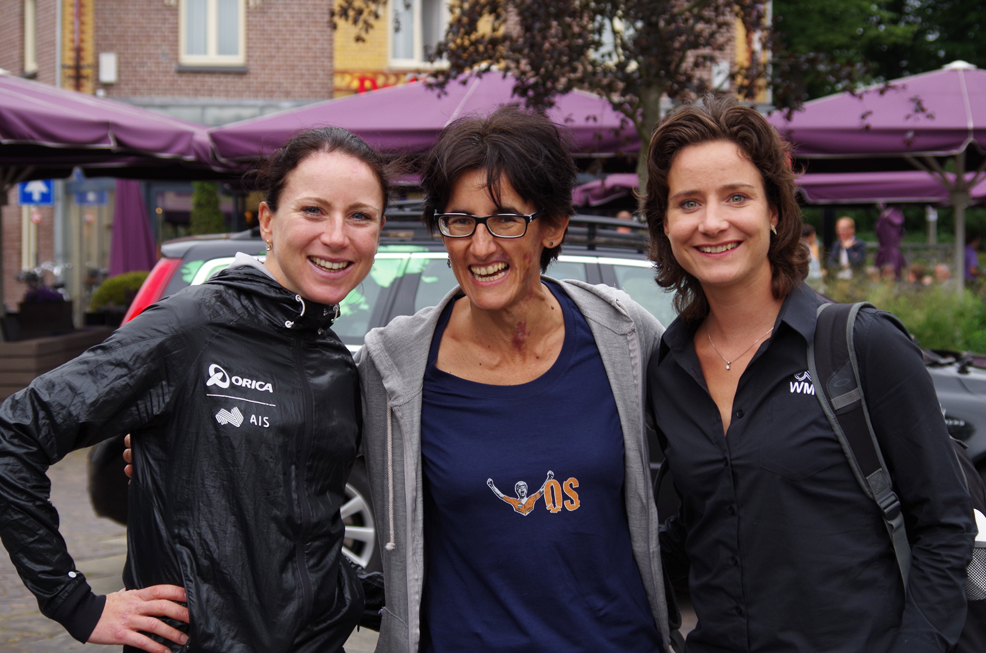 All things come to an end, so time to say bye-bye to this splendid group of people and to some extraordinary days in Montferland. THANKS TO ALL mentioned above for making us feel at home from the very first minute. It was truly especial. Salud and… see you soon!