As she approaches her farewell season in 2023 wearing the most iconic jersey in pro cycling, we felt it would be a good moment to sat down with Annemiek van Vleuten to review her best year ever. Winning Liège-Bastogne-Liège, Giro Donne, Tour de France Femmes, Challenge Vuelta and the World Championships on the road is an astonishing achievement in itself but, as usual with Van Vleuten, it wasn't only about what she won, but how she won. There was also time to talk about some of her future goals during a conversation that, hopefully, nicely complements the two previous interviews we already had with her.
Words: Saúl Miguel
Photos: Sprint Photo Agency / Movistar Team
Coming in terms with stage races
For Van Vleuten, the early success at the highest level in cycling happened in the big classics. After a first striking season in 2010, her breakthrough win , the Tour of Flanders, arrived in 2011. That year she also raised her arms at the finish line of Vårgårda and the GP Plouay. Just like Flanders, they were part of the now defunct World Cup, which Van Vleuten won at the end of the season as well, consolidating her position as one of the biggest names at the one day races.
11 years later, in 2022, the Dutchwoman is widely and rightfully regarded as the best stage racer of her generation. However, she still tends to describe herself as a one day racer as heart, citing the attacking style needed to conquer the classics as something more attractive than the often defensive racing that stace races require. But nowadays she's finally finding herself more comfortable as a stage race specialist: "This season I've dealt with it better than before", she says. "It helps that there haven't been many days of negative racing this year, and most of these happened while I was recovering from my sickness at the Tour de France Femmes, so it was actually good for me", she admits.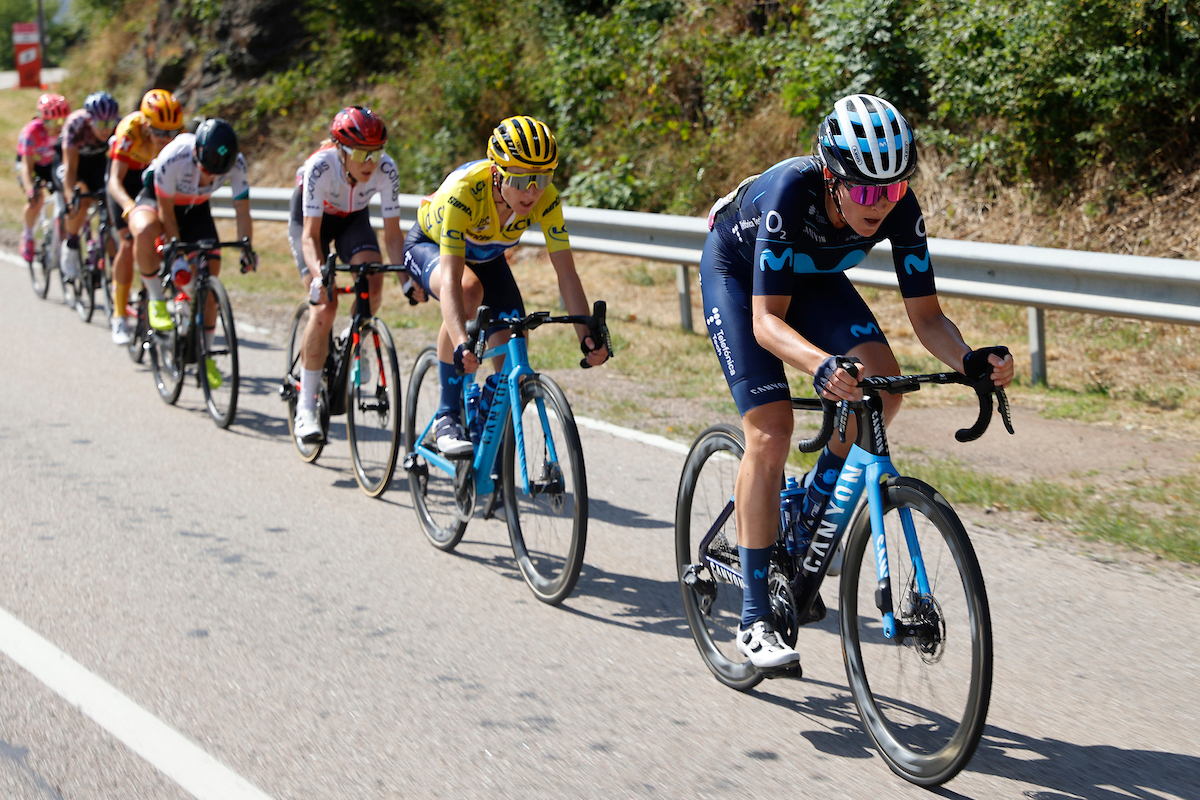 Van Vleuten has also learned to appreciate the more relaxed nature of the stage races. Or, at least, some of the stage races. "Compared to the classics, the Giro and the Vuelta are less stressful. That's nice when you have to race day after day." There's one big exception, though: the Tour. "The Tour was crazy this year. Each stage was just as stressful as a classic."
There's also the fact stage racing is better suited for her current skillset: "Stage races reward consistency, and I'm good at that. I'm very consistent in the classics, too, but the level is so high nowadays that winning them has become harder and harder. And those classics-style hills tend to be too short for me. But I still like them anyway", she concludes.
I want to ride both Giro and Tour again next year. And Vuelta, too
The experience of targeting the most important stage races of the calendar, or the so-called Grand Tours of the women's calendar (even though this would be a subject for discussion) went so well for Van Vleuten in 2022 that she's aiming to repeat the approach in 2023. "For sure I want to ride both Giro and Tour again next year", she states without hesitation. "I've been already talking about it with my team and with my coach. I still love riding in Italy and I'm looking forward to riding one more Giro." And there's more…
Some big changes are expected for La Vuelta in 2023. For starters, the name will change from Challenge Vuelta to La Vuelta Femenina, which may help build its reputation as the 3rd Grand Tour of the women's calendar. But, more importantly, it will grow from 5 to 7 days, moving to early May in an attemp not to be overshadowed by the men's Vuelta and gain an identity of its own. Even if the 2022 cycling season has only finished a few days ago, Van Vleuten is already planning how to tackle yet another remarkable challenge for 2023. "It would be a big racing block from Flanders to Vuelta, and then another one including Giro and Tour". It might look daunting, but it's not too different from what she did this year.
Earthly "star"
When it comes to exposition in the media and especially on TV, things had been looking promising for women's cycling in the last few years, and 2022 has been the year in which it all finally lived up to the hype. Even the old fashioned Giro Donne was broadcasted live. All stages, no exceptions. Fans can finally watch all the important races, and many of the, arguably, less important races, too. Young girls have the chance to get inspired by what they see, and perhaps set the goal to be themselves in the spotlight some day in the future. It's all there.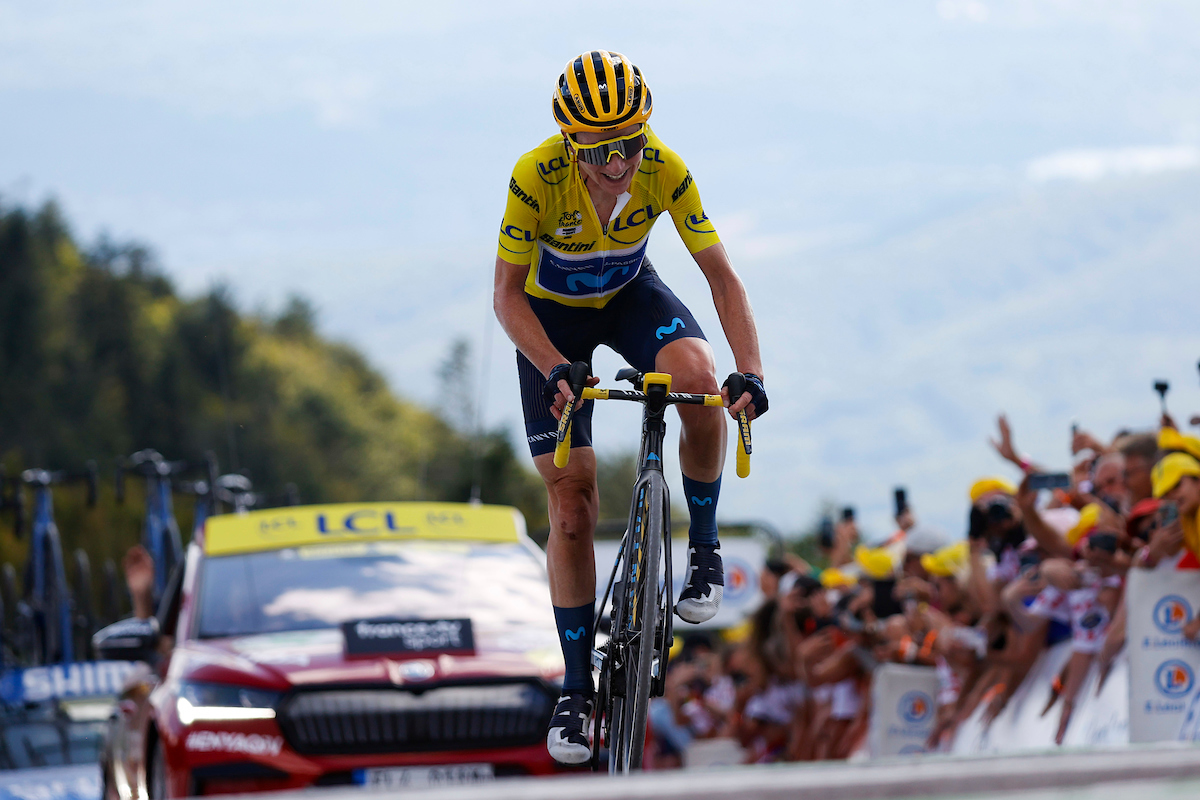 Yet, and not unexpectedly, popularity can have its downsides, too. Anyone who knows Van Vleuten a little bit would probably describe her as an extremely normal, down to earth person. It's a little bit weird for her that some people may refer to her as a "star", and treat her as such. "It can bother me sometimes", she admits. "I've noticed it, for example, when people that I didn't know before join my group rides around my area, and then say something like 'it's an honour that you join us'. That way I feel I'm being treated like a "star", instead of as Annemiek the person – at least in their eyes, because it's not the way I see myself. I tend to prefer to ride with people who know me from the times I started with cycling, because in their view I am simply Annemiek and we can have natural, straight conversations that are interesting for me, also talking about other stuff and usually not about cycling."
Of rainbows and emotional rollercoasters
Ellen van Dijk was Annemiek's roommate during the World Championships in Wollongong. They have been rivals on the road, as well as occassional teammates, for about a decade and a half. They know each other well, and there's always been a big mutual respect between them. They are fierce competitors most of the time, but also supporters of each other when it's needed. On and off the bike. So, when Van Dijk openly said that Van Vleuten had been far from her usual cheerful self on the days before the road race, it became obvious that the untimely crash during the mixed relay event had been an extremely hard pill to swallow for her teammate.
In one of her post-race interviews after winning her first road rainbow jersey in 2019, she admitted that, at that point, she had started to think that maybe she would never get that title. She got it, though. When asked is she was obsessed with getting another rainbow jersey, she categorically denies it. "No, not at all. If I hadn't already won the road rainbow jersey in Yorkshire, maybe it could have become an obsession, but it wasn't the case here. It was just the frustration of losing the chance that way."
Sometimes I even joke about it and call myself 'drama queen'
Apparently, there seems to be a pattern in Van Vleuten's career. It's no secret to say that cycling can be a dangerous sport, and most of her worst accidents and injuries have happened when she was about to get a particularly important win, or when she was riding at her very best. Certainly, she doesn't have this in common with the other big champions of her generation, who have generally been, say, luckier. A lot luckier, in fact.
However, when one analyses it more closely, it looks far from a matter of fate. "I'm not the kind of person who believes that someone is destined to be involved in such situations more often than others. Of course, sometimes I even joke about it and call myself 'drama queen' as a way to make a bit of fun out of it, but, on a more serious note, I realise that most of the times it was simply due to bad luck." The explanation is, indeed, way more earthly. "The crash in Rio was my own fault, as was the crash at this year's Giro, but most others were bad luck, something that it's out of your control, like having someone crashing in front of you. If it were always your own fault you could end up very frustrated and losing confidence, but it hasn't been the case often."
But how does one deal with so many setbacks? From the outside, it might have given her sort of an heroic, epic aura. The relentless fighter who always seems to come back stronger after her lowest moments. From her own view, it's certainly less poetic, and much more pragmatic. "Sometimes it's been difficult. Especially last year after Paris-Roubaix, I remember I told my coach that I felt I had less and less energy to get up after yet another setback. But that feeling lasted for only 24 hours, and after it I quickly started feeling more optimistic again. Setting small, achievable goals day after day helped a lot. You get some experience after previous similar situations and you can use it the next time it happens." Van Vleuten admits, however, that sometimes "a win tastes even better after coming back from a setback."
That's probably the case of her recent win in the World Championships. In the most unlikely of outcomes, she ended up winning the race with an attack in the last kilometre. Not many hours before it was still unsure whether she would start the race or not, having broken her right elbow 3 days before. And , even though she eventually started, the goal of winning wasn't in her mind anymore. It didn't mean she hadn't set her own modest goals, though. "I just wanted to come back from Australia with some happy feeling. You could say that the decision of starting the road race was even a bit selfish in a way, because I wanted to get a bit of that good feeling. Helping Marianne [Vos] or other teammate would have contributed to that, and I wasn't even thinking about winning", she tells candidly.
Somehow, after having been dropped twice, both in the penultimate and last lap of the race, and after having been working for teammate Vos, being barely able to stand on the pedals due to her elbow, she still found herself in the winning group. Yet, her mindset was different. "I wasn't thinking at all about winning yet. I was sitting there, in the last position of the group, waiting for Marianne to come back just in case she could do the sprint. I had no pressure because I wasn't even supposed to finish the race anyway", she says, despite being part of a team that is always supposed to win anyway. "The only moment in which we felt some pressure as a team was in the penultimate lap, when the group of 5 went away on the climb and there were no Dutch riders in it. Afterwards I focused on working for Marianne."
For a whole week I kept thinking it had been a dream and next morning I would wake up and see that it hadn't happened
Suddenly, in a matter of seconds, she realised that no other teammates would have time to come back, and she was the only option left for the Dutch team. She left a couple of meters of distance to the rider in front of her and attacked from the back of the 12 riders group, taking them all by surprise. She describes how it went: "I saw nothing of what happened behind me since my attack. When I attacked, I knew I had only once chance, it was all or nothing. I noticed that Ashleigh Moolman-Pasio was at the front of the group. Had it been Longo Borghini at the front, my chances would have been much lower. She would had reacted right away for Persico. I thought the moment was good. I attacked with all I had and didn't look back once. I was convinced that they would catch me sooner or later, but I realised 200 metres from the finish that I couldn't hear any sound from their bikes near me. It hurt like hell to get up on the pedals with my elbow, but I even did that because I didn't want to end with any regrets."
Rivals, commentators and spectators around the world stared in desbelief. And so did Van Vleuten herself. "I couldn't believe that I had won, and it took me several days for the win to really sink in and realise what I had done. For a whole week I kept thinking it had been a dream and next morning I would wake up and see that it hadn't happened. It was so unbelievably crazy that I felt like that for such a long time." Later, she would describe it as "maybe my best win ever". For a rider who has such a long list of victories, some of them truly special and memorable, that's quite a statement.
Team's ambitions and goals' switches
The growth of Movistar Team in the last two years has been nothing short of remarkable. While Van Vleuten herself has taken most of the important wins, for a total of 25, many other riders in the team have contributed to the list, mostly Emma Norsgaard and Arlenis Sierra, who have added 14 wins to the team so far between the two. The signings of Liane Lippert and Floortje Mackaij for 2023 will likely make a noticeably stronger and more balanced team, which may change some of the tactics for specific races, especially as Lippert is starting to establish herself as a force to be reckoned with in the hilly classics, as well as showing major improvements on the mountains.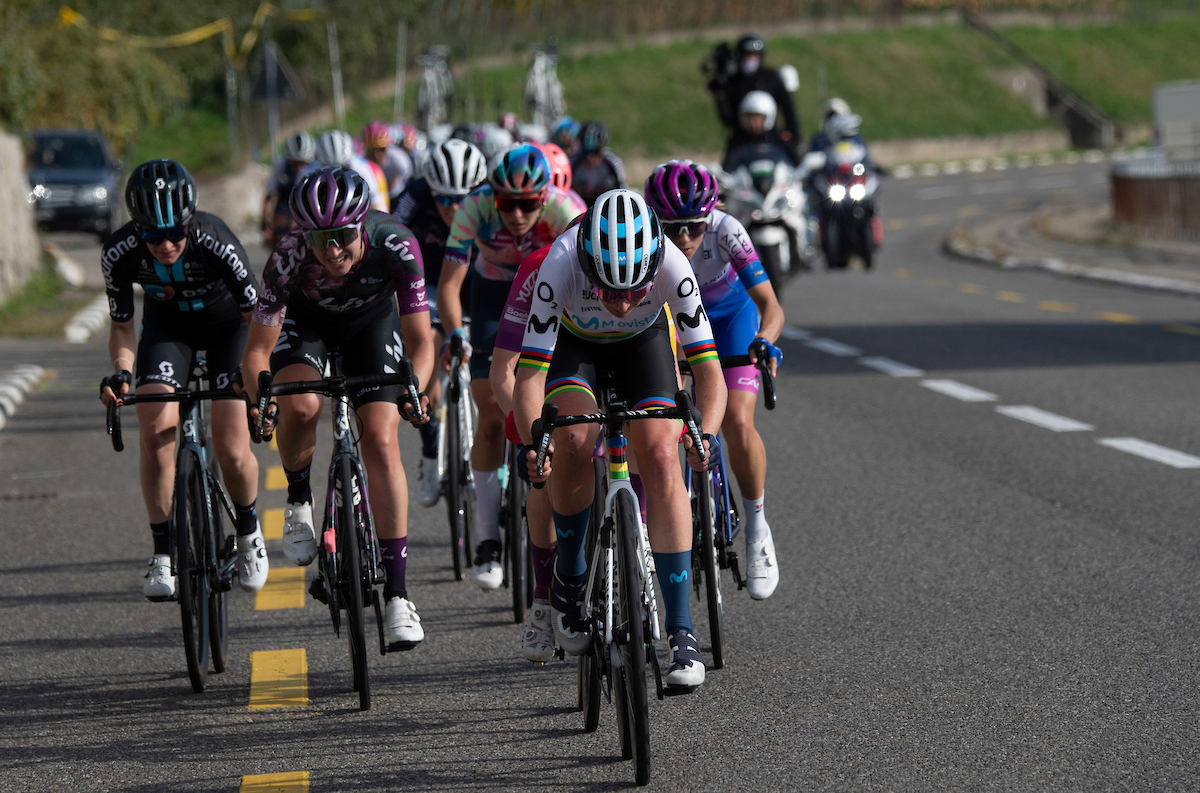 This is a welcome change for Van Vleuten. "I really like to play the tactical game with the team, and I do enjoy working for others sometimes, such as this year for Arlenis Sierra at Dwars door Vlaanderen and some stages in Romandie, or last year for Emma Norsgaard, for example in Omloop Het Niewsblad. I got great satisfaction from that", she states, as she continues with an additional remark: "For stage races I think it's better to have a plan for an unique leader, but for the classics a tactical approach with more options can be really beneficial, especially as the climbing efforts in the classics tend to be too short for me and I know I cannot win them based on power alone. But you can win them tactically."
For the past few years, Van Vleuten has trained an unsurmountable amount of hours and kilometres on the TT bike, which showed in the results. She won the ITT World Championships in 2018 and 2019, and put the icing on the cake by winning the gold medal of the discipline in the Tokyo Olympics last year. However, her focus has switched since then, partly due the growing lack of time trials in the calendar, and partly due to her own interests. "My motivation comes from improving myself, and after Tokyo I felt there wasn't any room left for me to improve in time trials anymore, so I've been training less on the TT bike. And, somehow, winning a time trial doesn't give me the same euphoric feeling I get from winning a regular road race. But who knows, maybe when we get to know the parcours of the Tour de France Femmes tomorrow I'll feel the need to train more often on the TT bike again", she says with a smile. [Note: the interview happened the day before the TdFF presentation. Now we know the race will finish with a 22 km ITT in Pau].
In 2018, as she explained in our first interview with her, she became silver medallist in the World Championships on the track, in the Individual Pursuit. It was something she found quite challenging and ultimately not entirely satisfying due to several reasons. So, even though she didn't completely rule it out for some time, tackling the hour record is not among her future plans anymore, either. "It's something that I've been talking with my team and my coach for a long time. But I prefer racing outside over racing inside a velodrome so much that it's not for me. And it requires so much specific preparation that it would compromise my goals on the road. The nice part is that you have to form a small team around you to prepare the event, and working with that staff is something I'd find motivating. But I won't try it. Also, Ellen [van Dijk] has set such a high standard this year that it would be extremely difficult to beat."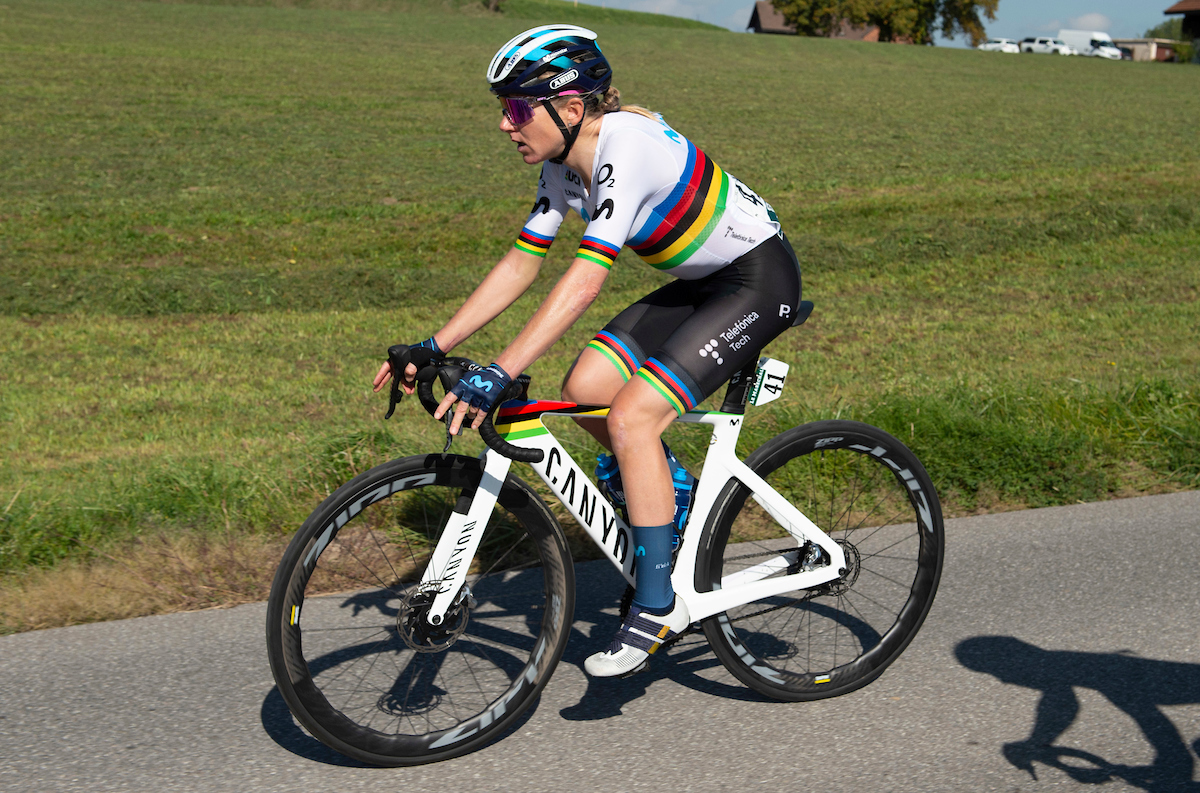 No more off road adventures for Annemiek van Vleuten, then. But she won't find herself short of new goals and challenges to tackle in 2023, her final year as a pro cyclist. And in rainbows.