BIGLA KATUSHA: NO FEAR
We were expecting a strong Clara Koppenburg all along the race, but the whole block worked just with 1 idea: the win, dethroning Anna van der Breggen in the last stage, even if the mission was nearly impossible.
The Swiss team started stage 4 full gas from the beginning. The riders emptied their tanks one by one and we saw Norsgaard being dropped early, following a perfectly executed plan. The pace was very high and Boels-Dolmans riders started to lose contact with the front group, meaning that leader Van der Breggen was being isolated. This was the only chance of a victory, and Bigla was determined to grab it. Koppenburg was glued to the leader's wheel and for a second it seemed that Anna had doubts. Later on, we found out that the Dutch was feeling sick in the last 2 days.
The move at the front from Hall (Boels-Dolmans) and Thomas (Bigla-Katusha) opened-up a whole new scenario, as these 2 riders could win the GC if they obtained a 4 minute margin on the GC. As the stage went on, it was clear that Boels did not want to risk Anna's leadership, so both Americans -Katie Hall and Leah Thomas- would battle the stage win in a sprint.
Finally, Thomas proved to be the fastest in the breakaway. Bigla finished the race in a high, with 2 stage wins –Emma Norsgaard & Leah Thomas – and the team classification. And even more important: the no fear approach, commitment to the plan and hunger for victory. This is the women's cycling that we love.
*A especial mention for Lizzy Banks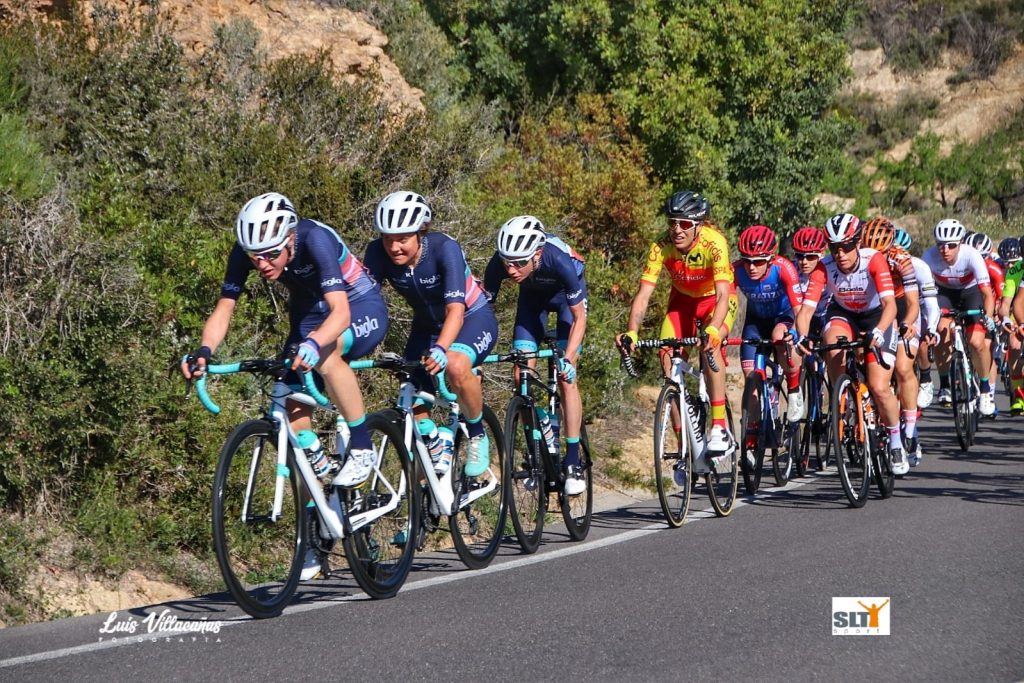 Lizzy is a great, aggressive rider. She caught everyone's attention at the Women's Tour with her "crazy", long range attacks. Then she was 3rd in Elsy Jacobs after another attacking festival, she surprised everyone with her Giro Rosa stage win and, to cut a long story short, she was on the attack in practically every race she was taken part.
However, the way she was leading her team in all the climbs during this 1st stage race of the season has been a step forward for her. 2020 is a promising start for the British rider.
MAVI GARCÍA- STAGE 4
An attack with 60 km to go is a dream for all cycling lovers -perhaps you are thinking about Annemiek's 105 km's one last September, but that simply stands in a class of its own-. That is exactly what Mavi García did in the Queen stage at Setmana Valenciana, when she was riding a comfortable 4 minute lead with 4 breakaway companions. Her move wanted to shake things up, an all or nothing to win the race.
Those 4 minutes were exactly the time she had lost on stage 2 to the leader Anna van der Breggen. In the breakaway, Leah Thomas and Katie Hall were marking each other following team tactics, so Mavi saw the pace was not increasing and she could go faster. Why not? Last year, she launched a 70 km attack at Tour of Yorkshire and only Marianne Vos and Soraya Paladin followed. Her prize was getting a spot on the podium and becoming a rider to watch in the cycling international scene.
The ones who have been following Mavi's short cycling career know her potential very well.
Mavi's sheer power has impressed everyone since her days as world top biathlon athlete.
Going back to her roots, Mavi spent her 3 first seasons riding for Bizkaia-Durango, where she won her 1st national title and many races from the Spanish Cup. Her only struggle was placing herself in the peloton, as she had no previous experience, so races were a stressful affair. The solution? Attack solo at the front, lead a gap and keep it to the end.
With patience and hard work, her bunch confidence grew -same as her racing tactics skills- and thus she was feeling more and more comfortable in the peloton. A few severe crashes in the last 2 seasons (being part of Movistar) have delayed Mavi's progress in the international scene, but beware of the climber from Mallorca this season: her signing to Alé is a flow of fresh air for her and she has started the season in a very good shape. The classics not being her terrain, she is now heading to an altitude training camp.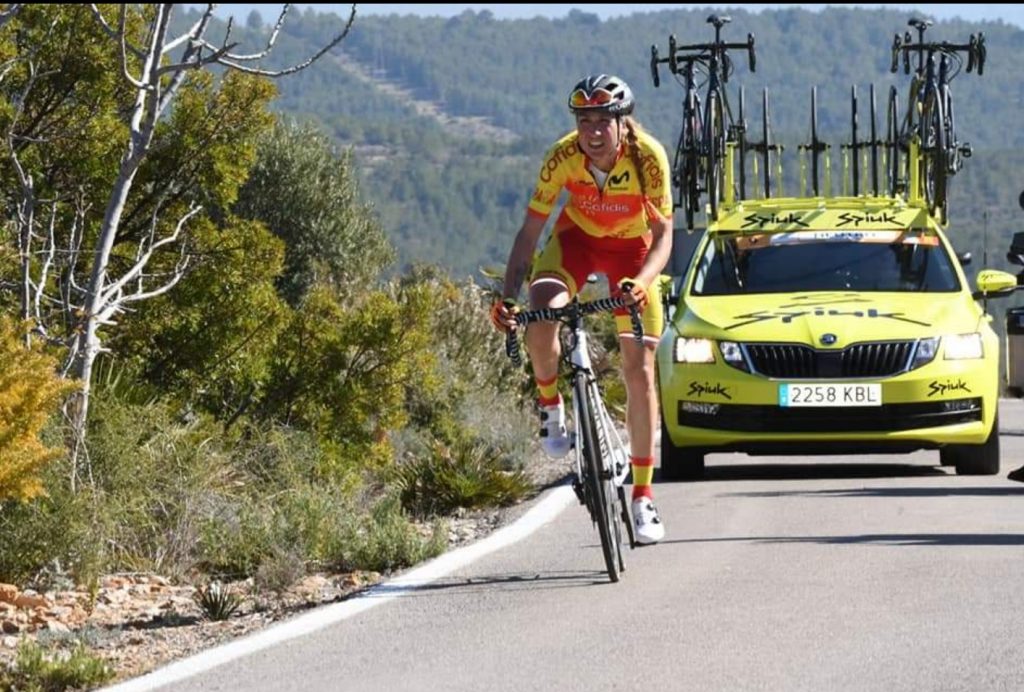 ANE SANTESTEBAN & CERATIZIT-WNT
On paper, the mountain classification had to be a GC riders' affair, but Ane Santesteban and her team proved the above assumption wrong. Ane showed her fine form from stage 2, and all through the Queen stage, she battled the classification with Demi Vollering in a fantastic way, out-sprinting the Dutch sensation in every single mountain-top.
Ane's brilliant polka-dot achievement aside (and 9th in the GC), it is worth mentioning that Maria-Giulia Confalionieri, her newly signed sprinter, crashed on stage 1 (together with team-mate Laura Asencio) and had to had stitches on her hip. She could not contest the sprint, but we wish the Italian a speedy recovery. Same for Laura, whom we gladly saw following the stages in the car the following days.
Last but not least, this was the 1st race for Carmen Small as D.S. for the German team. A convincing solid performance – not to forget a brave Erica Magnaldi, part of the 5 rider breakaway in the Queen stage-, and a very cohesive group of riders who seem to be delighted with her new director.
DEMI VOLLERING
Beware of Demi for the upcoming season. After her break-through 2019, she looks leaner and, despite not having the strongest team around her in this Setmana Valenciana, only Anna van der Breggen was stronger than her uphill.
JIP VAN DEN BOS
Jip even surprised herself with the perfect placement in the hectic stage 1 finale. She finished 3rd in the sprint, only beaten by Norsgaard – who had done a reckon of the stages with her team- and Arlenis Sierra. It looks a promising start for her favourite races, the classics. Let's not forget she was 3rd at Omloop het Nieuwsblaad last year, and that a few weeks afterwards she won Le Samyn des Dames.
EMMA NORSGAARD
The Danish sprinting talent is finally here. After a horrid 2019 (a persistent knee injury which had her going to surgery, and a difficult rehab process), it seems that her health and fitness are back. Let's not forget she won the Danish national road race title to former World Campion Amelie Dideriksen when she was just 16 years old. As good Danish, she has a charming charisma as well, so it definitely adds-up to her huge sporting talent.
NADINE GILL
The German is riding for Spanish club team Belori Vipeq, and her top-15 placements in both mountain stages are more than remarkable achievements. Finally 14th in the GC, the team celebrated it like a victory.
JOSCELINE LOWDEN
The rider from Drops and her climbing power in this race have being a true discovery.
A steady progress in the UK scene for the last 3 seasons, it seems that this ex-runner – started bike racing in 2016- had a rapid rise to the top of the British rankings.
At Setmana, she finished with the GC leaders' group in the Queen stage, and she managed a 12th in the GC. Unfortunately, the women's calendar has a worrying lack of mountainous races, but for sure we will hear more of the drops rider when the roads get steep.
ALICIA GONZÁLEZ AND SOFÍA RODRÍGUEZ
Alicia (Movistar, but here riding for the Spanish National Team) and Sofía (Sopela Women's Team) are well-known in the Spanish scene for 2 things: their bike- handling skills and their intelligence. They have proved many times they have no fear even fighting amongst the international field.
In stage 1, both finished top-10 in one of the most dangerous descents we can remember.
GRETA MARTURANO
The winner of the U-23 category (Top Girls Fassa Bortolo) won this important classification with a huge margin on Sophie Wright and Blanka Kata Vas. Let's hope Greta keeps on developing and becomes a rider to watch uphill, since too many Italian talents are lost in the transition from junior to elite.