As the 2016 cycling season slowly goes on towards its ending, few races are left. One of the most interesting for sure it's the Lotto Belgium Tour, a 2.1 stage race that features a startlist and especially a parcours that could give many WWT races a run for their money. Its position in the season's calendar also makes it an excellent pre-Worlds test. However, it will be a different story this year. Doha Worlds are later than usual and the road race is flat; whatever happens in Belgium is unlikely to give an indication of what we may see on the Qatar roads more than one month later. It doesn't make the Lotto Belgium Tour less interesting, though.
The parcours
The four stages, or better said, a prologue followed by three stages, will offer opportunities for many different riders to win, but in the end the overall classification will go to a versatile, strong and powerful cyclist, who should be able to time trial and to tame the cobbles as well. Ellen van Dijk, Annemiek van Vleuten and Emma Johansson have been the previous winners of this race. Quite a stellar line up which shows what's needed to triumph here.
Prologue – 6 September: Nieuwpoort ITT (4.4 km)
Stage 1 – 7 September: Moorslede (121.5 km)
Stage 2 – 8 September: Lierde (107.9 km)
Stage 3 – 9 September: Geraardsbergen (97.3 km)
The opening effort is a 4.4 km ITT prologue, ideal for creating the first time gaps, but unlikely to be definitive for the GC. The following two stages include a few cobbled sections and hills, but everybody will be focusing on the first and last stage. The peloton will have to face the iconic Kapelmuur twice and then another small initial section of it before reaching the finish line in Geraardsbergen. It will be a beautiful dose of good old Ronde van Vlaanderen flavour.
Favourites

Previous winner Emma Johansson (Wiggle-High 5) will be wearing bib number one. Known as Miss Consistent, one can always count on her for the win. However, she seems to be building up her form again after some well deserved post-Olympic holidays and may be a bit tired after having just finished the Boels Rental Ladies Tour with a decent but not particularly brilliant performance. Elisa Longo Borghini seems to have improved her time trialling skills and it's a solid performer on the cobbles. She could be the team's leader as well.
Marianne Vos (RaboLiv) is good at short time trials, as are her teammates Thalita de Jong and Lucinda Brand. Vos is yet to find her former strength on the climbs; if she does, an explosive cobbled hill as the Kapelmuur suits her. But even if she doesn't, she will probably fight for a couple of stage wins, even though there will be a fierce competition for the bunch sprints since Giorgia Bronzini (Wiggle-High5) and the all-sprinters team Alé-Cipollini are also riding.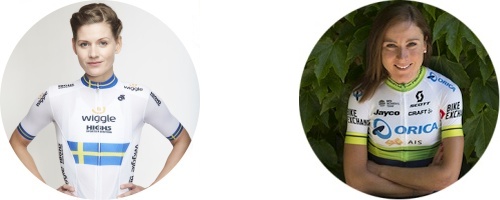 Of course everybody will be looking forward to seeing how Annemiek van Vleuten will perform in her first race after her Olympic crash. It's unrealistic to think of her as a race favourite considering the circumstances, but she's feeling better every day and sometimes specialists can deliver great performances in specific races without proper preparation. Few will be surprised if Van Vleuten finishes the prologue among the top places. Anyway, having her riding the Lotto Belgium Tour is already a triumph in itself. Since Orica-AIS is not in the startlist, Annemiek will be wearing the colours of the Dutch national team.
Canyon//SRAM have several options for the race but perhaps Lisa Brennauer is the best suited for the task as she might be the best placed of the team after the prologue.
The official hashtag for the Lotto Belgium Tour seems to be #LottoBelgiumTour.